Stuffed Cheesy Spinach Naan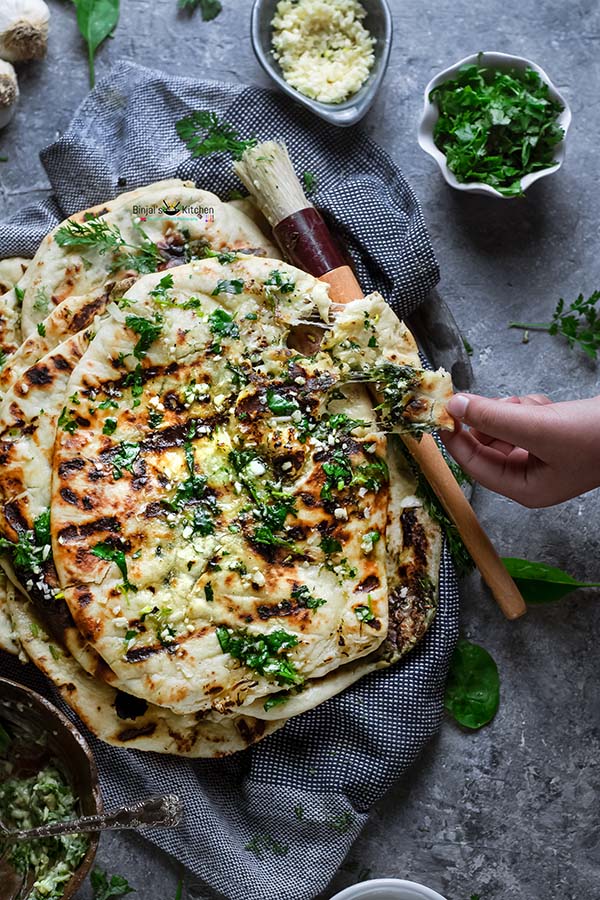 2 cup All Purpose Flour/Maida
1 Packet Active Dry Yeast(7gram)
2 tsp Sugar
2 tbsp oil/Ghee
Salt
Flour for Dusting and Rolling
1 Bunch of Fresh Spinach
2-3 tsp Garlic Paste
1-2 tsp Crushed Red Peppers
1 tsp Black Pepper Powder
Salt
1 tbsp oil
½ Cup Shredded Mozzarella Cheese
Take a ¾ cup lukewarm water in a mixing bowl, and then add sugar, yeast and mix well, cover it for 7-8 minutes or till bubbly foamy texture.
Take a 2 cup flour add it into the prepared yeast mixture, oil, salt and mix well, knead it about 3-4 minutes. If needed then use water and make a smooth dough like elastic.
Apply few drops of oil on dough, cover it and keep a side for 30 minutes or till double.
Wash and clean the spinach and then chop roughly.
Heat oil in a pan, add chopped spinach, garlic paste, salt, black pepper and crushed red pepper.
Stir on a medium flame till spinach mixture become dry or till all moist observe. keep aside for let it cool down.
Once cool down, add shredded cheese and mix well.
Take the prepared dough, punch it down, and knead it again for 2 minutes. Now divide the dough into the medium sized balls.
Take one ball, dust in flour, roll it and make thick circle disk. Place the filling on the disk and close the edges, farm it into the ball.
Dust the ball into the flour, flatter with using fingers, and then roll it into the oval shaped naan using roller pin.
Heat the griddle, apply little water on rolled naan, place it on tava/griddle and cook for a minute or till bubbles will come out on the Naan surface, or cook it for 1-2 minutes.
Turn the tawa and roast all side of the Naan directly on high flame till golden brown spotted and then flip, roast it for few seconds on a direct flame using a cooling rack.
Now remove it on plate and apply ghee or butter.
Preheat the oven on maximum temperature.
Take a baking tray, grease it with few drop of oil. Place the stuffed naan on it, and brush it with oil or ghee.
Place the tray into the oven and then bake it for 5-7 minutes on highest temperature.
• Always apply little water on rolled naan before cook on the griddle, so Naan can easily stick on tava/griddle.
Recipe by
Binjal's VEG Kitchen
at http://binjalsvegkitchen.com/stuffed-cheesy-spinach-naan/