Cheesy Garlic Pull Apart Bread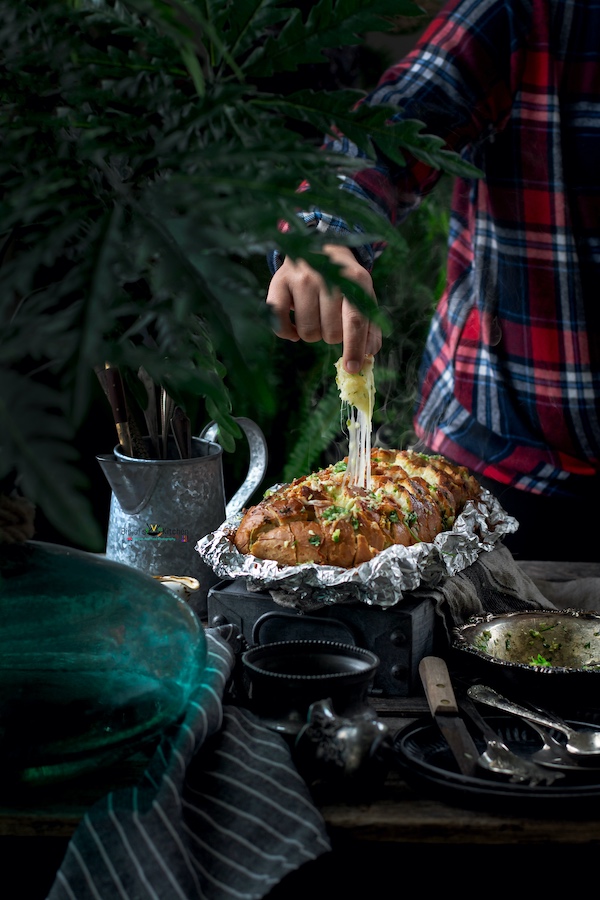 Recipe type:
Bread & Baking
1 Italian Crusty Loaf (Uncut/Unsliced whole Bread Loaf)
½ stick Melted Butter (2 ounce)
2-3 tbsp olive oil
3-4 Garlic Clove Minced or Crushed
¼ Cup Fresh Chopped Parsley
1 tsp Black Pepper
1 Cup Shredded Mozzarella Cheese
Salt As Per Taste
Preheat an oven on 375 F/190 C.
Combine butter,olive oil, black pepper, chopped parsley, minced garlic and salt in a bowl and mix well.
Cut Italian Crusty Loaf on a diagonal into 1 to 1½ inch diamonds shape, use bread knife for perfect cut, be careful do not slice all the way through.
Use your fingers to pry open each crack and apply or spread the prepared butter mixture and shredded cheese into the each crack.
Now warp the entire loaf in a foil, place the warped loaf on a baking tray and bake it for 10-12 minutes till all cheese melt, then uncovered the foil carefully and bake it again for 5 minutes till crusty.
Remove carefully, now your Cheese Garlic Pull Apart Bread is ready for serving, serve fresh immediately.
• You can store foil warped and unbaked loaf for up to 15 days in a freezer. Whenever you want bake them for 15 minutes or till cheese melt, then unwrap it and bake again for 5 minutes.
• You can add herbs in butter mixture as per your taste like rosemary, thyme, mint or you can add chopped spring onion.
Recipe by
Binjal's VEG Kitchen
at http://binjalsvegkitchen.com/cheesy-garlic-pull-apart-bread/