Chipotle vegetarian Bean Chili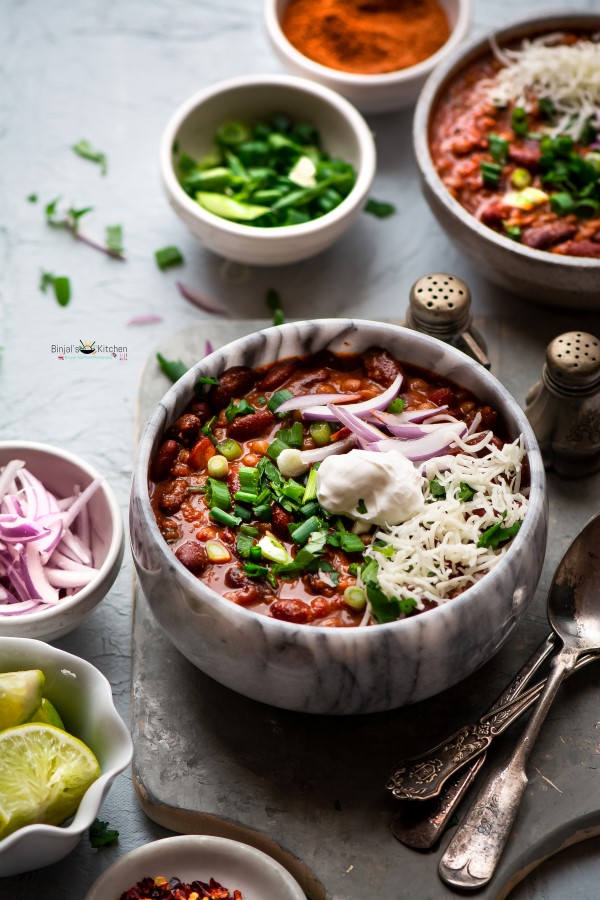 Cuisine:
American, Mexican
2 tbsp Olive Oil
1 Medium Onion Finely Chopped
2 Cloves Garlic Minced
1 cup Carrot Chopped
1 tbsp Chili Powder
1 tsp Cumin Powder
½ tsp Paprika
Salt
2 Chipotle Peppers in Adobo Sauce Roughly Chopped
1 can Crushed Tomatoes
3 cups Vegetable Broth
1 can Red Kidney Beans
1 can Pinto Beans
1 can Red Lentil
Shredded Cheddar Cheese
Sour Cream
Chopped Red Onions
Chopped Scallion
Chopped Cilantro
In a large heavy pan add oil and heat it. Add minced garlic, chopped onion and sauté/stir fry it until it softens and golden brown.
Add chopped carrot, salt and cook it about 3-4 mins on medium flame till carrot becomes soft.
Add the chili powder, cumin, paprika, chipotle peppers. Stir to combine the ingredients.
Now add the crushed tomatoes and broth, cover the pot and bring it to a boil on high flame.
Remove the cover, add the beans and lentil and reduce the flame to medium and let cook the soupy mixture for 10 minutes without cover.
Turn of the heat and cover it. Keep aside for 10 mins to thicken it little bit.
Chipotle vegetarian Bean Chili is ready. Serve it into the bowl, top with sour cream, shredded cheese, onion, scallion and cilantro.
• You can use mix beans like black bean, black eyed bean, chickpeas, corn etc.
• You can Refrigerate any leftovers; the chili tastes even better the next day!
Recipe by
Binjal's VEG Kitchen
at http://binjalsvegkitchen.com/chipotle-vegetarian-bean-chili/