Bathua Muthia or Gujarati Cheelia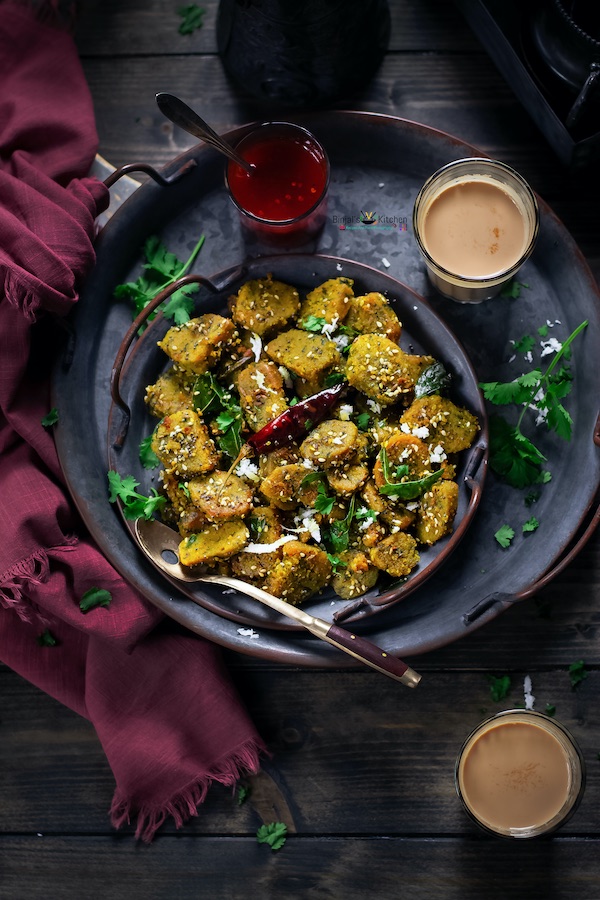 1 Bunch Bathua Leaves
1 cup Makki Flour
½ cup Whole Wheat Flour
¼ cup Chickpeas Flour
¼ cup Bajara Flour
2 tbsp Semolina
¼ tsp Baking Soda
1 tsp Sesame Seeds
½ tsp Turmeric powder
½ tsp Red Chili Powder
1 tsp Coriander Seeds Powder
1 tsp Cumin Seeds Powder
2 tbsp Ginger-Garlic-Green Chili Coarse Paste
½ cup Yogurt/Dahi
2-3 tsp Sugar
Salt
1-2 tbsp Oil
2-3 tbsp Oil
½ tsp Mustard Seeds
½ tsp Cumin Seeds
1 tsp Sesame Seeds
¼ tsp Hing
5-6 Curry Leaves
1-2 Whole Dry Red Chili
Chopped Coriander Leaves
Grated Fresh Coconut
Take a bathua bunch, remove the leaves from each stalk and collect it in colander, then wash it well with water and drain. Chop it and keep aside.
In mixing bowl add all the flours, samolila, soda, sugar and salt.
Now add red chili powder, turmeric, coriander powder, cumin powder, sesame seeds and mix the all dry ingredients.
Add chopped bathua, yogurt, ginger-garlic-green chili paste and oil. Mix the ingredients using fingers and make a soft but slightly sticky dough, cover it and keep aside.
Now in steamer add water for steaming. Put the stand inside for steaming pan and let the water boil.
Now take a steaming pan or round baking tin/pan apply/grease the oil inside. Apply little bit oil to the hand palm, take some portion of prepared dough and shape it into the cylinder roll it should be like long sausage roll.
Place it into the greased pan, make more roll out of remaining dough and arrange into the pan.
Now put the pan into the steamer and steam it about 15-20 mins, if you are using pressure cooker, give 3-4 whistles.
Once cool down remove the pan from the steamer and separate each roll gently.
Bathua muthia rolls are ready. Cut each roll into the small round pieces and keep aside for tempering.
In big ban add oil and heat it, then add mustard seeds, cumin seeds and sesame seeds, once start cracklings add hing, curry leaves, whole dry chili, then add chopped muthia in tempering.
Stir fry the muthia on low to medium flame, till it crispy and slightly golden.
Bathua muthia is ready, garnish with chopped coriander leaves, fresh grated coconut and served hot with tea and enjoy delicious Bathua Muthia.
• If you want to make gluten free, then you can skip wheat flour and replace it by some rice flour.
• You can skip tempering and use an air fryer to make more crispy.
• If you need to make a soft dough, then add more yogurt and you can also add water.
• If you make a dough without water, then Muthia can stay fresh longer. You can also keep Muthia in a refrigerator up to one week.
Recipe by
Binjal's VEG Kitchen
at http://binjalsvegkitchen.com/bathua-muthia-or-gujarati-cheelia/