Gujarati Mango Pickle(Methia Keri Athanu)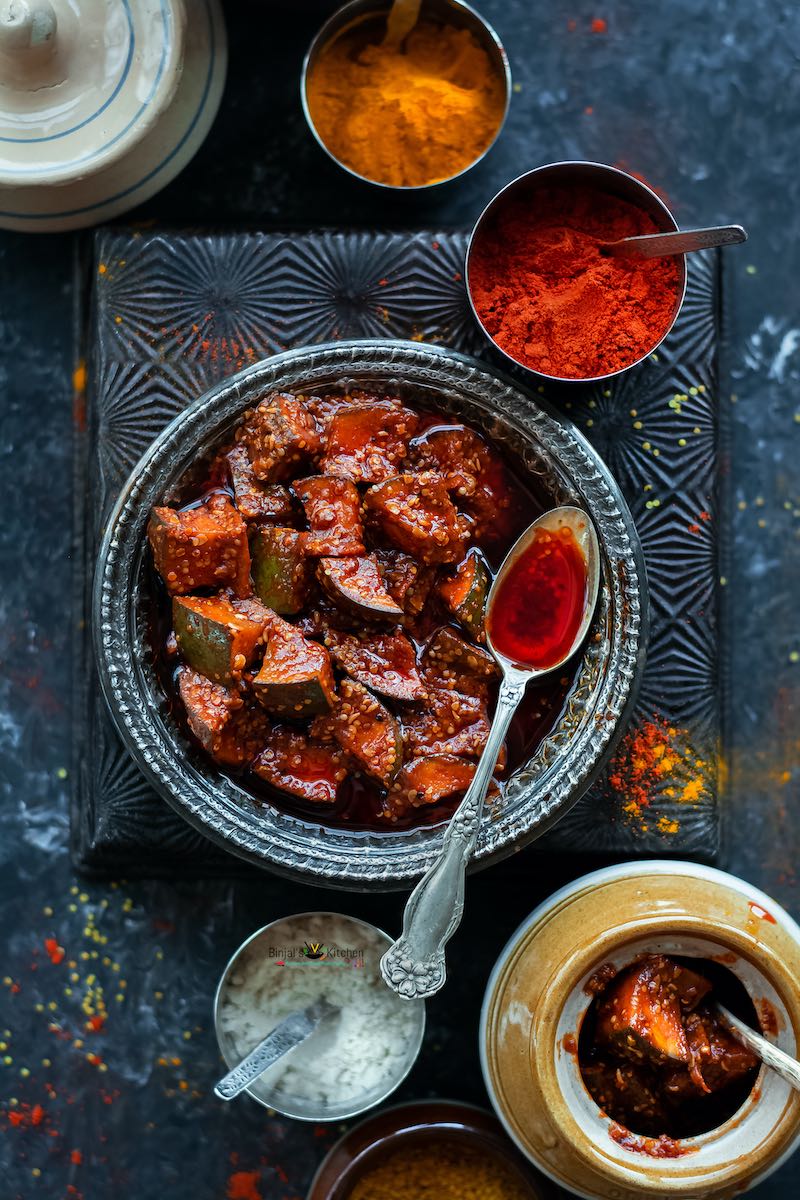 Ingredients
2-3 cup Chopped Raw Mango Pieces/Kachi Keri
1-2 tbsp Salt
½ tsp Turmeric/Haldi
Other Ingredients
1 ½ cup Mustard Oil/Sarson Ka tel
½ cup Crushed Mustard Seeds/ Rai Kuria
½ cup Crushed Fenugreek Seeds/ Methi Kuria
¼ cup Red Chili Powder/Lal Mirch Masala
1-2 tsp fennel seeds/Sauf
½ cup Salt
1 tsp Turmeric Powder/Haldi
1 tsp Asafetida/Hing
In mixing bowl add chopped raw mango pieces, salt and turmeric, then mix it well and keep aside for 2hrs, then remove the salty water and spread it over the kitchen cloth for 2-3hrs.
In mixing bowl add all dry ingredients except oil, mix it well and keep aside.
Now heat the mustard oil into the saucepan till smoking point, switch of the flame and pour over the mixed dry spices ingredients carefully.
Mix the dry ingredients and hot oil with spoon immediately and cover it for 1-2hrs.
Once cool down add mango pieces and mix it well, cover it and keep aside for 2-3 days.
Mix it everyday with spoon, after 2-3 days oil will float up, that means pickle is done perfectly.
Store the pickle in airtight dry glass jar and keep it in dry place/kitchen shelves.
• Add more salt if you want pickle little salty.
• If you don't have Rai or Methi kuria just use regular seeds and crush coarse mixture into the mixer or mortar pastel.
• If mango pieces are not that sour add 1-2 tbsp white vinegar into the pickle.
• It can be store up to year in kitchen shelve.
Recipe by
Binjal's VEG Kitchen
at http://binjalsvegkitchen.com/gujarati-mango-pickle-methia-keri-athanu/