Two Layer Roti (Padwali Rotli)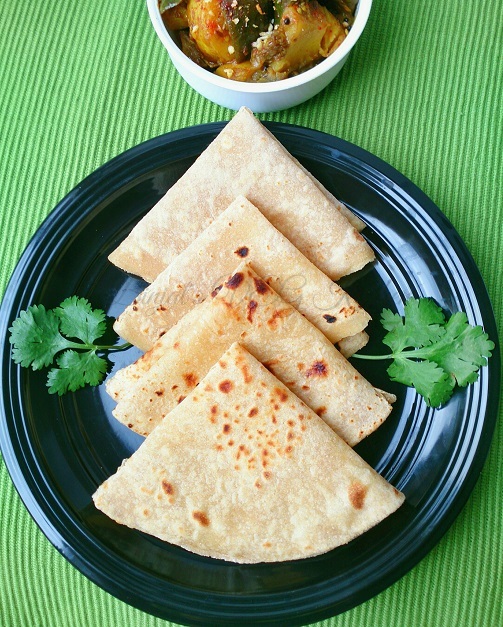 Recipe type:
Indian Bread
2 cup Whole Wheat Flour
Salt
1 tsp Oil (For Kneading)
1 tbsp Oil (For Dipping)
Flour (For Dusting)
Ghee (For Applying)
Take a large bowl and add whole wheat flour, salt and then knead using water, make soft, smooth and slightly sticky dough.
Add 1 tsp oil, knead again for 1-2 minutes and cover it for 2-3 minutes.
Take the dough, knead it for a min and make small size balls.
Take two balls; one ball surface dip in the oil and another ball surface dip in flour.
Now stick both balls surface together, press them slightly and make them flattener.
Heat the griddle on medium flame; during heating, roll the flattener ball using dusting flour and roll gently into thin roti.
Now place the roti on griddle and cook it for ½ minutes.
Turn the roti and cook till light brown spot.
Turn it again and slightly roast using cotton cloth or tissue for 1 minute. Now you can see your roti firm into pocket type roti.
Remove the roti from griddle, you can see the two layered edges and that is where you start peeling and separating the layers.
Apply ghee on one of the roti's inside layer and cover it with another layered roti, apply ghee again on the top. That's way, both the layers have ghee.
Repeat the above steps with the remaining dough balls.Two Layer Roti is ready; serve with Mango pulp or your favorite vegetable.
Recipe by
Binjal's VEG Kitchen
at https://binjalsvegkitchen.com/two-layer-roti-padwali-rotli/