Bruschetta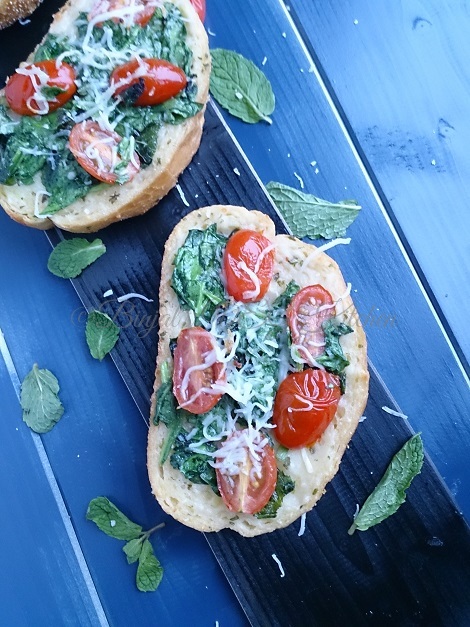 1 loaf Italian/French bread
1 cup cherry tomato (cut in half)
2 tsp minced garlic
1 tbsp finely chopped Basil leaves
1 tbsp finely chopped mint leaves
½ cup finely chopped spinach
½ tsp black pepper
½ Italian seasoning
2 tsp olive oil for mixing
Oil for brushing
Salt
¼ cup Shredded cheese (mozzarella & parmesan)
Preheats the oven on 450°F (230°C). Take a bowl, add tomato, basil, spinach, mint, garlic, and then mix well.
Add cheese, olive oil, salt, Italian seasoning, black pepper and mix well, keep aside.
Cut the loaf into thick slice, and then brush the oil on baking tray, place the bread slice on it, and then again brush the oil on bread slice.
Spread the prepared mixture on slice and bake the slice in already preheated oven for 10-15 minutes, and then serve hot.