Quinoa Patties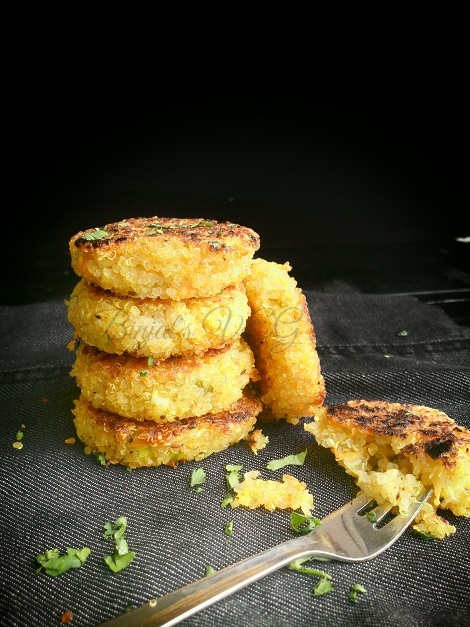 Recipe type:
Appetizer & Snack
1 cup Quinoa
½ cups Chopped Spring Onion
½ cup Grated Carrot
½ cup Grated Cheese (I used vegan Mozzarella cheese)
1 tbsp Garlic Paste
¼ tsp Green Chili Paste
½ tsp Black Pepper
Salt
1 Lemon Juice
Oil
Wash and drain the Quinoa.
In a large pan, add Quinoa, require water (approximately 2 cups), and salt. Bring to boil on medium flame and cook them for 15-20 minutes or till smooth and thick.
Then remove from the flame and let it them cool down.
Add chopped spring onion, grated carrot, cheese, little salt, Black pepper, green chili paste, and lemon juice.
Mix well using your hand and make patties form mixture.
Heat a non-stick tava (griddle) on a medium flame and grease it with oil, then cook the patties, using little oil, till both sides are crispy and golden brown in color.
Now remove from the griddle and serve with dip, chutney, ketchup, or curd.