Green Papaya Salad (Som Tum/Tam)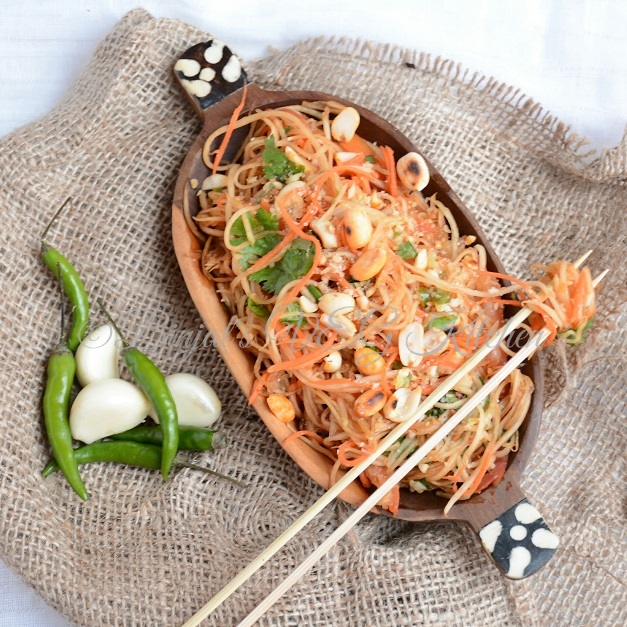 1 medium size Green Papaya
1 Carrot
1 medium sized Tomato
¼ cup chopped Cilantro/Coriander Leaves
2-3 Clove Garlic
2-3 Thai Green Chili
2 tbsp Brown Sugar/Grated Jaggery
1 Lemon Juice
1 tbsp dark Soya Sauce
Salt
2 tbsp Roasted Peanuts (Coarsely Crushed)
Wash and peel the Papaya, cut into half and then scoop out black seeds.
Shred the peeled papaya using grater.
Take a large bowl, add shredded papaya, sprinkle little salt and keep aside.
Peel the carrot and shred it same way as papaya. Chop the tomato into thin slices and then chop coriander.
Add shredded carrot, chopped tomato and chopped coriander into shredded Papaya bowl.
Take another small mixing bowl, add lemon juice, add sugar and mix well till sugar dissolved.
Now using the clay mortar and pastel, pound the green chili and garlic to make a coarse paste.
Add this paste in to the lemon-sugar mixture, add salt and mix well.
Take the already prepared shredded Papaya bowl, add soya sauce and mix well.
Add prepared lemon sugar mixture, crushed peanuts, pound lightly and mix well.
Keep in refrigerator for 10-20 minutes.
Just before serving, garnish with crushed peanuts.
Recipe by
Binjal's VEG Kitchen
at https://binjalsvegkitchen.com/green-papaya-salad-som-tumtam/