Onion Pakoda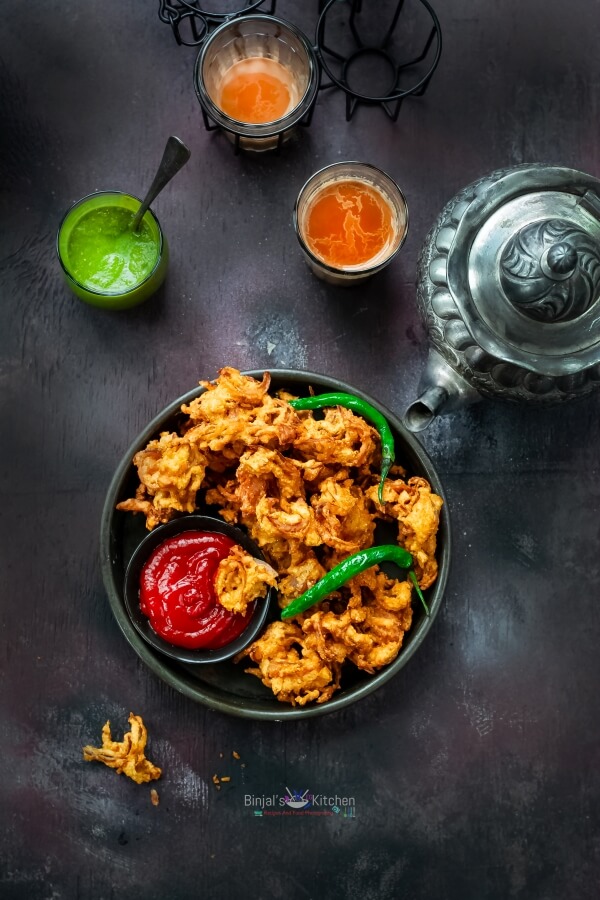 Recipe type:
Streetfood & Chaat
2 cup Thinly Sliced Onion
1 ½ cup Besan/Chickpeas Flour
¼ cup Suji/Semolina
2 Green Chili Finely Chopped
½ tsp Red Chili Powder
1 tsp Turmeric Powder
¼ tsp Carom seeds/Ajwain
1 tsp Coriander Seeds/Dhana
¼ tsp baking Soda
Salt
1 tsp Sugar
1 tsp Oil
Oil for Deep Frying
Take a large bowl, add thinly sliced onion, chopped Green chili, besan, and suji.
Add Red Chili powder, turmeric powder, carom seeds, coriander seeds, soda powder, salt, oil, sugar, water as required and mix well, make a thick batter, keep aside.
Now heat the oil in deep pan on medium to high flame. Drop spoonful of the onion mixture using your fingers and then deep-fry till they turn into golden brown in color from all the sides.
Repeat with the remaining batter to make more Pakodas. Drain on absorbent paper and keep aside.
Serve Onion Pakoda with fried green chili and dry garlic chutney.