Brussel Sprout Red Cabbage Salad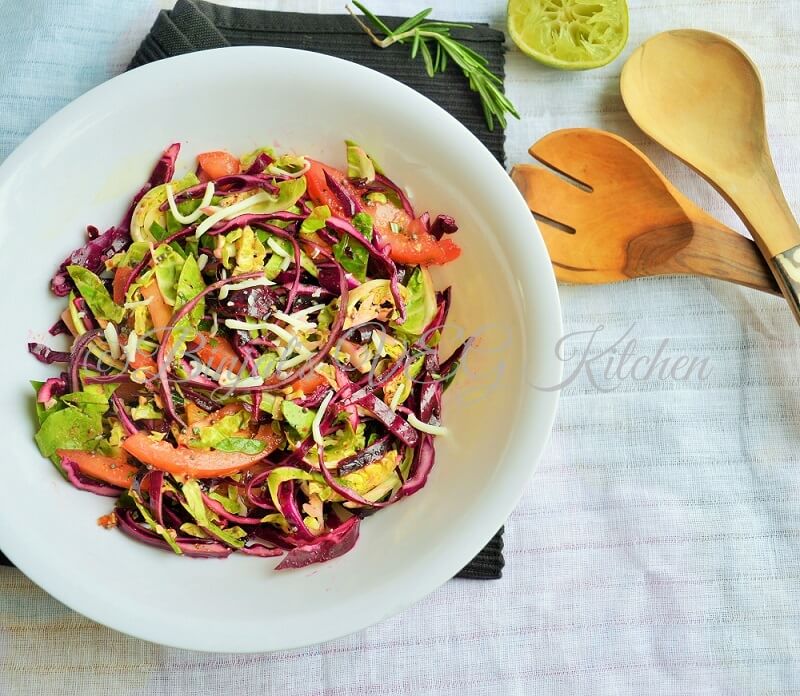 1 cup thinly Sliced Brussel Sprouts
1 cup thinly Sliced or shredded Red Cabbage
¼ cup sliced Tomatoes
½ tbsp finely chopped fresh Rosemary
1 tsp Black Pepper Powder
1 tsp Cumin Seeds Powder
1 Lemon Juice
Salt
½ tbsp Olive Oil
½ tsp Mustard Seeds
4-5 Garlic Clove Chopped
1 tbsp Grated Cheese for Garnish (Optional)
Take a bowl, add sliced Brussel Sprouts, Red Cabbage and mix well.
Add chopped tomatoes and rosemary over it.
Add lemon juice, black pepper, cumin seeds powder, salt, and mix well, keep aside.
Heat oil in a small pan. Add mustard seeds, when seeds crackled, add chopped garlic and cook/roast till golden brown.
Pour the temper over the mixture and toss it and sprinkle some cheese.
Brussel Sprout Red Cabbage Salad is ready to serve.
Recipe by
Binjal's VEG Kitchen
at https://binjalsvegkitchen.com/brussel-sprout-red-cabbage-salad/