Gajar Halwa (Carrot Dessert)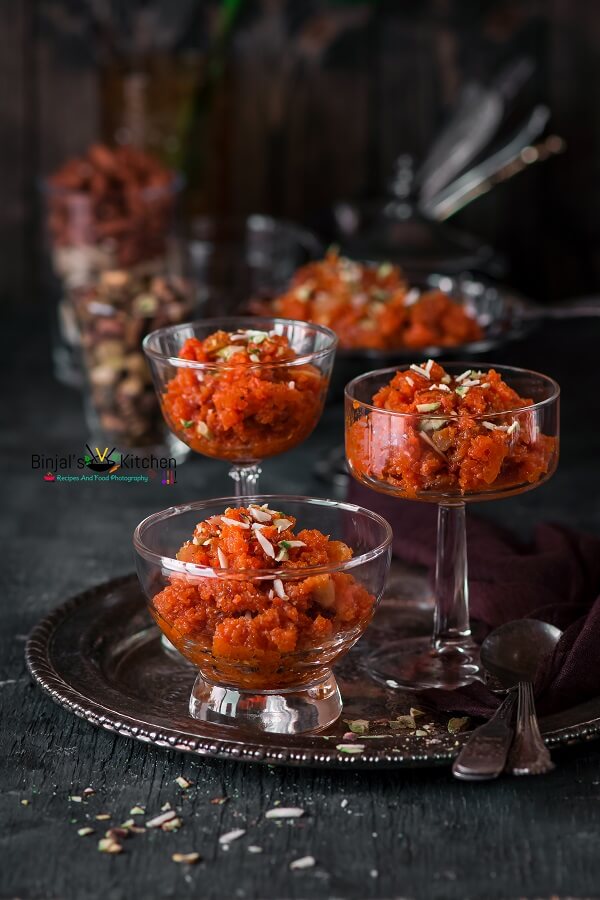 Recipe type:
Dessert & Sweet
4-5 cup Grated Carrots
2 cup Whole Milk
1 ½ cup Sugar
2-3 tbsp Ghee/Clarified Butter
¼ tsp Cardamom Powder
¼ cup Thinly Chopped or Coarsely Powdered Dry Fruits (Almond, Cashew Nuts and Pistachios)
1-2 tbsp Raisins (Kishmish) + 2 tbsp Milk
2 pinch Saffron Threads
1-2 tbsp Chopped Dry fruits for Garnishing (Almonds, Cashew Nuts and Pistachios)
Wash and clean the carrots, peel it, and then grate into the bowl using the thin grater. Soak the Saffron Threads into the 2 tbsp of milk and keep it aside.
Heat the ghee in a large pan, add the grated carrots and stir fry it till sweetened smell or 5-6 minutes on medium flame.
Add milk and stir it occasionally till half of milk evaporated.
When half of milk evaporated, add dry fruits, raisins and stir it again on medium flame till all milk evaporated and become creamy mixture or till 15-20 minutes.
Add soaked saffron threads, cardamom powder, mix well and again stir it for 5 minutes. Add sugar and mix it well.
Stir the mixture till all sugar well dissolved, now turn the flame on medium to high and stir it till the whole mixture becomes semi dry, now you will see the Halwa leave the bottom of the pan and mixture become non sticky.
Gajar Halwa is ready, garnish with some chopped dry fruits and serve.
• You can use the food processor for carrot grating instead of thin grater.
• You can store the Gajar Halwa in air-tight container up to 4-5 days in a refrigerator.
• Adjust the sugar quantity as per your taste.
• You can use 1cup evaporated milk instead of 2 cup whole milk.
Recipe by
Binjal's VEG Kitchen
at https://binjalsvegkitchen.com/gajar-halwa-carrot-dessert/