Vegetable White Sauce Pasta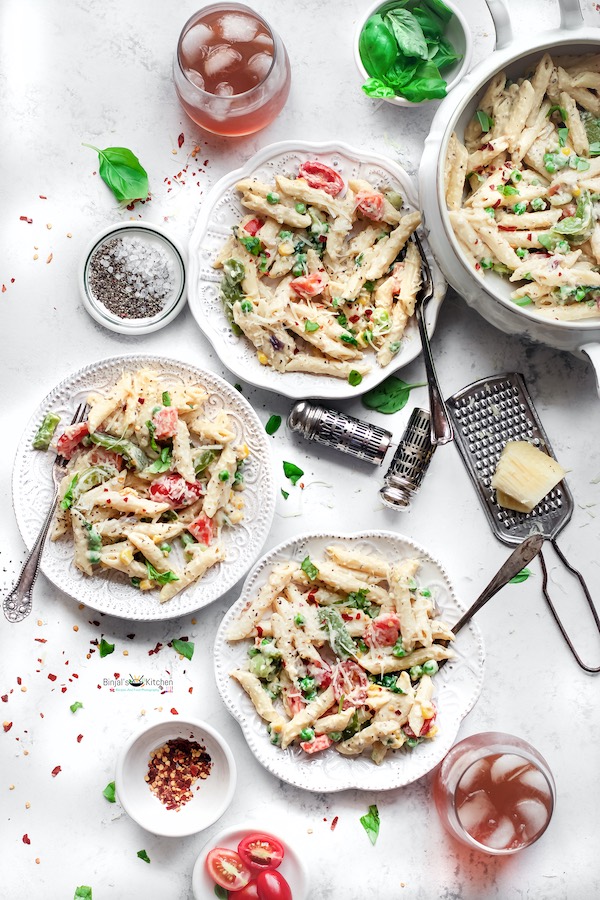 1 Box Penne Pasta (use any shape pasta as per you choice)
1 Chopped Medium Sized Onion
1 Chopped Carrot
1 Chopped Small Capsicum
3-4 Finely Minced or Grated Garlic
¼ Cup Boiled Green Peas and Sweet Corn
¼ Cup Cherry Tomatoes Cut into Halves
2-3 tbsp wheat flour/All-purpose flour (Maida)
2 cup Whole Milk
1 tsp Italian Seasoning (Oregano, Thyme and Basil)
2-3 tbsp butter
Salt
1-2 tsp Black Pepper
2-3 tbsp Chopped Fresh Basil Leaves
2-3 tbsp Shredded Cheddar Cheese or regular cheese (optional)
Boil the enough water in the deep pan with salt. Add pasta and boil it for 10 minutes or till completely cooked, stir it continuously while cooking to avoid sticking to bottom of the pan. Drain it and keep aside.
Heat the butter in a pan. Add onion and sauté till golden brown or soften. Add chopped carrot, capsicum and sauté for 3-4 minutes.
Now add minced garlic, boiled sweet corn-green peas and mix well.
Add maida and mix well, again sauté for few minutes. Add milk, Italian seasoning, salt and stir it, mix gently.
Add chopped fresh basil, bring it to boil, then add cooked pasta, black pepper and mix well, cook for 2-3 minutes.
Add cheese and mix it well. Your Vegetable Pasta White Sauce is ready. Serve it hot with bread or baguette.
• You can use any veggies as per you choice like mushroom, boiled potatoes, French beans etc…
• You can skip basil and cheese. It's optional.
• You can use dried oregano and basil instead of Italian seasoning.
• If your pasta sauce is thick, you can add little hot water or milk to adjust the thickness.
• You can use black pepper as per your taste.
• If you are living in India and you don't have dry basil and oregano, then you can add a bit of fresh coriander or mint leaves.
Recipe by
Binjal's VEG Kitchen
at https://binjalsvegkitchen.com/vegetable-white-sauce-pasta/