Roasted Red Pepper Hummus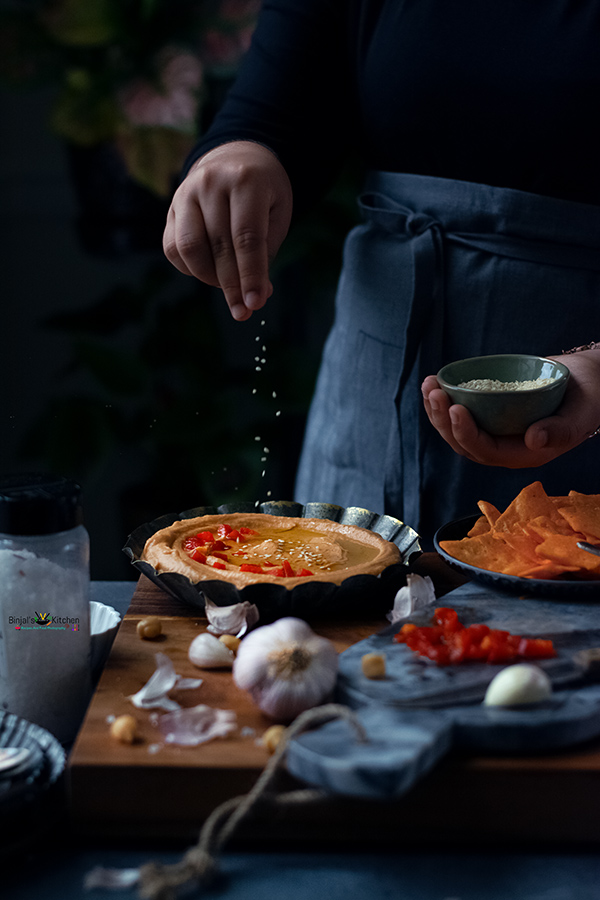 Recipe type:
Dip & Chutney
1 cup Cooked Chickpeas
1 Red Bell Pepper
1 tbsp Homemade Tahini
1-2 tbsp Olive Oil
1-2 Garlic Clove
1 Lemon/Lime Juice
1 tsp Red Chili Powder
½ tsp Cumin Powder
Salt
Roast red peppers over the flame till all sides becomes black, or you can roast it into an oven on broil for 10-15 minutes.
Let it be cool down. Once it cooled, peel the black skin of pepper's, discard the seeds and chop roughly.
Add roast red peppers, chickpeas, homemade tahini, salt, olive oil, lemon juice, chili powder, cumin powder, garlic into a blender and blend it till smooth paste.
Roasted red bell pepper hummus is ready serve with chips, cracker as a dip.
Add few ice cube while blending to make super creamy texture.
If you don't have tahini paste, just soak few tbsp sesame seeds for 20-30 mins, drain and add direct with ingredients in blender
Recipe by
Binjal's VEG Kitchen
at https://binjalsvegkitchen.com/roasted-red-pepper-hummus/