Homemade Eggless Donuts or Doughnuts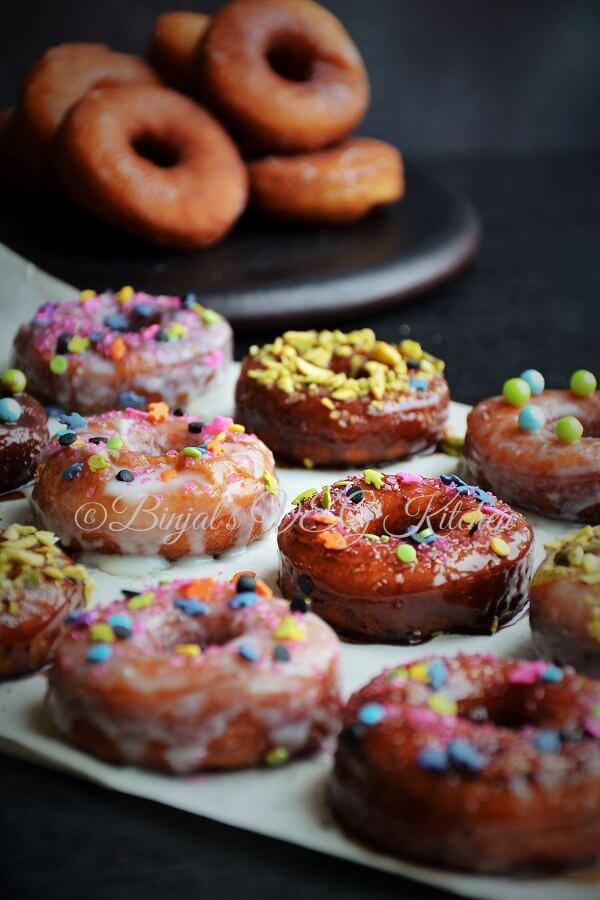 Recipe type:
Dessert & Baking
2 Cup All Purpose Flour/Maida
¼ tsp Baking Powder
¼ tsp Vanilla Extract
2-3 Pinch of Salt
3-4 tbsp Melted Butter
1 Packet Dry Active Yeast (2¼tsp)
3-4 tbsp Sugar
½ cup Milk
½ Cup Powder Sugar
2-3 tbsp Melted Butter
2-3 tbsp Warm Water
Chocolate Dip (Dark n White)
Coloring sprinkles
Chopped Dry fruits (pistachios or almonds)
Take a small bowl. Add warm milk, sugar and mix well till dissolve completely. Add dry yeast, mix it, cover it and keep aside for 10 minutes or till yeast will become foamy.
Take a big bowl and shift the flour in it. Add salt, baking powder and mix well. Add melted butter, vanilla extract, yeast mixture and mix well.
Now make little sticky dough, use water if required.
Dust the flour on the kitchen surface and turn the dough on it, then knead it for 5 minutes or till smooth soft dough.
Cover the dough in the same bowl for 30-35 minutes till double.
Once dough will become double, punch it down, knead it again for 2 minutes, and divide into 2-3 portion balls.
Dust the flour and roll the ball into thick circle.
Now use a round cookie cutter or a sharp corner round glass and cut into small-small disk. Take a small cap/lid of small bottle, press on center of disk and make small hole. You will get exact shape of donut.
Place the donuts on tray. Apply little oil with brush or spray. Cover the tray with plastic wrap and keep aside for 25-30 minutes or till double.
Heat oil in a deep pan, fry the donuts on a medium flame till golden brown, remove it on absorbent paper and keep aside.
If you don't want to fry them, you can bake them 200 C or 450 F for 5-7 minutes till golden brown.
Take a small bowl for sugar glaze. Add powder sugar, melted butter, warm water, mix it well and make syrup.
Dip the fried donuts in the sugar syrup and coat them all side.
You can dip into a chocolate dip as per your choice and sprinkle with different kinds of toppings like dry fruits, coloring sprinkles, etc…
Homemade Eggless Donuts or Doughnuts is ready, serve fresh and enjoy.
• Use always good quality yeast.
• If you don't want to fry, you can bake them.
• You can use different kinds of toppings as per your choice.
Recipe by
Binjal's VEG Kitchen
at https://binjalsvegkitchen.com/homemade-eggless-donuts-doughnuts/