Chokha Methi Nu Shak (Fenugreek Rice Curry)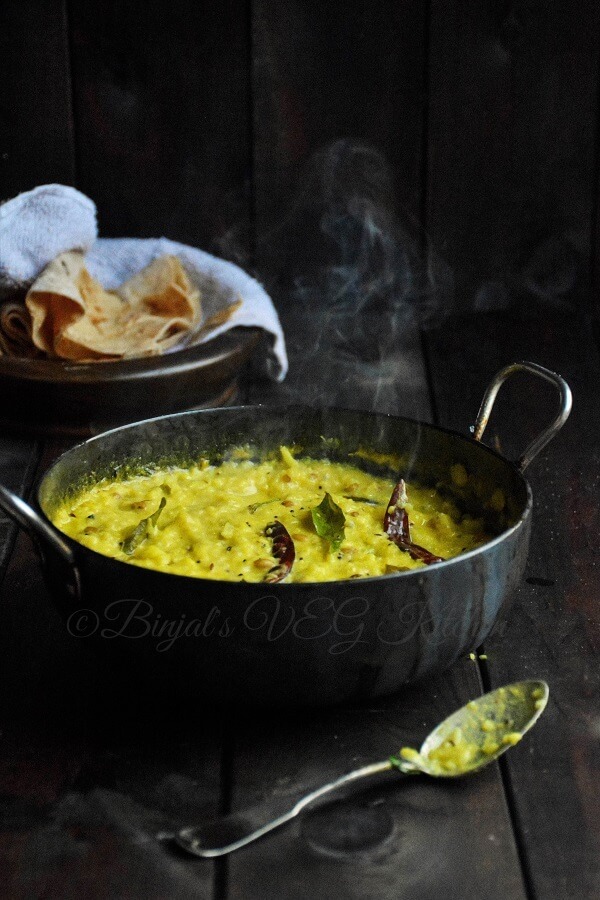 1 Cup Yogurt/Dahi
¼ Cup Rice
2-3 tsp Fenugreek Seeds
1 tsp Green Chili Paste
2 tsp Ginger-Garlic Pate
¼ tsp Turmeric powder
Salt
¼ tsp Mustard Seeds
½ tsp Cumin Seeds
1 tbsp Oil
2-3 Whole Red Chili
4-5 Curry Leaves
Pinch of Hing/Asafoetida
¼ tsp Red chili powder
Chopped Coriander leaves (optional)
Wash and drain rice and fenugreek seeds, and then soak it together in a small bowl for ½ hour. 1
Whisk yogurt in a deep saucepan or kadhai, make sure it should be without lump.
Add the soaked rice and the fenugreek seeds in the whisked yogurt, and then add green chili paste, ginger-garlic paste, turmeric powder and salt. 2
Mix it well. Now add 2 cup of water, and make smooth thinner batter like buttermilk type consistency. 3
Cook and stir it continuously the prepared rice mixture on low to medium flame till boiling point. Once it reach to boiling point then no need to stir continuously, just stir it occasionally.
Cook this mixture on low flame till rice cooks completely. It will take another 7-10 minutes or till curry becomes thick consistency. 4
Now heat oil for tempering in a small pan. Add mustard seeds, cumin seeds, pinch of hing, red chili powder, whole red chili, curry leaves and stir it with spoon for few seconds.
Pour this temper over the cooked rice curry, mix it well and cook it for 2-3 minutes.
Rice Curry or Chokha Methi nu Shak is ready for serve, garnish it with chopped coriander leaves.
Serve hot with Paratha, Roti, Baati or with Gujarati crispy Bhakri.
• While boiling the mixture, don't forget to stir continuously else the yogurt will be separated.
• If your yogurt is too sour and you don't like it, then replace the part of the water with milk.
• Cook on low to medium flame.
• Use coarse paste of ginger-garlic and green chilies for more authentic taste.
• You can add 1-2 tsp sugar, if you like sweet, sour and spicy taste.
Recipe by
Binjal's VEG Kitchen
at https://binjalsvegkitchen.com/chokha-methi-nu-shak/