Fig Ice Cream (Anjeer Ice Cream)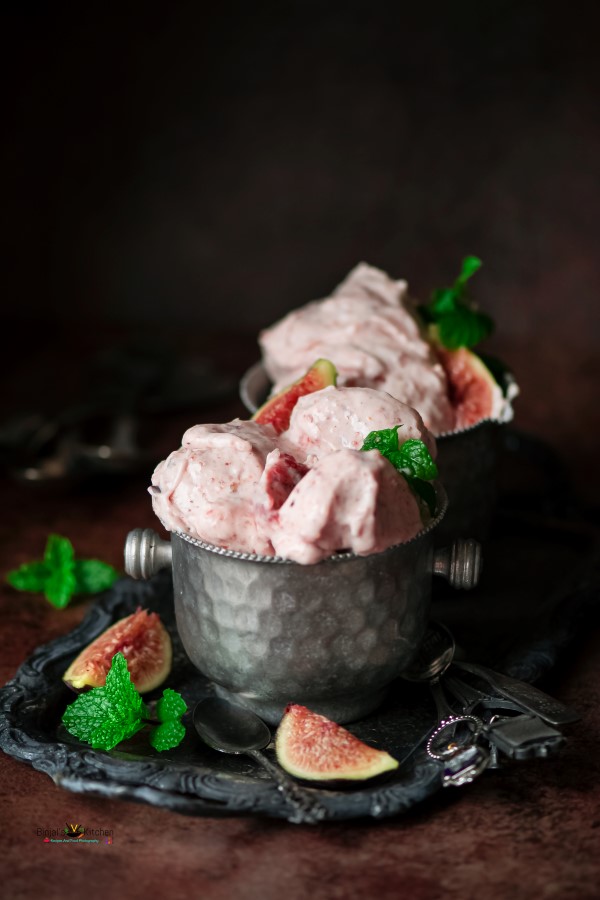 • 1 ½ cup Heavy Whipping Cream/Malai
• 2 tbsp Goat Cheese/Cream Cheese
• ½ cup Milk
• ¾ cup powder Sugar
• 1 tsp Vanilla Extract
• 1 cup Fresh Ripe Fig/Anjeer
• ¼ cup Sugar
• 1 tbsp Lemon Juice
• 1-2 Tsp Orange Zest (opt.)
• 3-4 tbsp Water
Whisk the whipping cream in a mixing bowl till foamy texture. It will take 7-8 minutes.
Add milk, cream cheese and mix well, then add vanilla extract, sugar and again mix till smooth creamy texture.
Now cover the bowl and place it into a freezer for 1-2 hours. 1
Wash figs, remove the steam and cut them into quarters.
Add chopped figs into the sauce pan. Add sugar, lemon juice, orange zest and water.
Mix it well and cook the fig mixture till soft and thick like jam texture. It will take 7-8 minutes for cooking process, after that switch off the flame and keep aside for cooling or till basic ice cream done.
Remove the prepared ice cream from the freezer after 1-2 hours.
Add prepared ice cream in a blender or mixer. Add ¾ part of fig jam and blend it for 2 minutes or till mix it properly.
Add remaining fig jam into the mixture, mix it very well with spatula.
Pour the mixture into the ice cream tin or container and set them again into the freezer for 4-5 hours till mixture become hard like ice cream form. 2
Once done serve it with fresh fig wedges or garnish it with mint leaves………and enjoy homemade fresh fig Ice cream.
• You can add condensed milk into the basic ice cream mixture instead of milk and sugar for best result.
• You can use brown powder sugar instead of regular powdered sugar.
• You can use dried fig, but you have to need soak them for overnight or 4-5 hours till soft.
• Orange zest is an absolutely optional ingredients you can skip if you don't like it.
• Adjust sugar level as per your taste.
Recipe by
Binjal's VEG Kitchen
at https://binjalsvegkitchen.com/fig-ice-cream-anjeer-ice-cream/