Baby Potatoes Green Gravy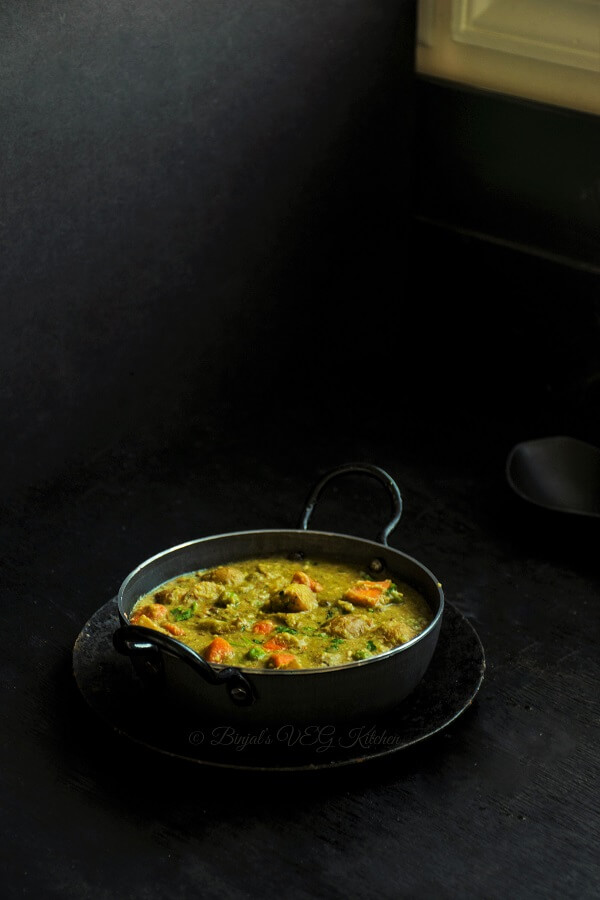 Recipe type:
Sabji & Curry
2 cup Baby Potatoes
¼ cup Peeled and Chopped Carrots
3-4 tbsp Fresh/Frozen Green Peas
Salt
1 tbsp Oil
½ cup Green Peas
¼ cup Sliced Fresh Coconut
7-8 Cashew Nuts
1 tsp Coriander Seeds
1 tsp Poppy Seeds
2-3 tsp Green Chili-Ginger Paste
1 tbsp Butter/Oil
½ tsp Cumin Seeds
Pinch of Turmeric Powder
Salt
1 tsp Garam Masala
1-2 tsp Lemon Juice
Wash the baby potatoes and cut them into halve.
Heat oil in a pan. Add chopped potatoes, chopped carrot, green peas and salt.
Now mix well, roast it, cover it and cook it on low flame for 4-5 minutes.
Remove it in another bowl and keep aside.
For Gravy Paste: In a mixer/blender bowl, add green peas, sliced coconuts, cashew nuts, green chili-ginger, coriander seeds, poppy seeds, 1-2 tbsp water and make smooth paste.
Now heat butter/oil in the same pan. Add cumin seeds, the prepared paste, salt, pinch of turmeric powder and mix well, stir it for 2 minutes on medium flame.
Add ½-¾ cup water, mix well, bring it to boil and boil it for 3-4 minutes.
Add the roasted potatoes, garam masala and lemon juice in to the boiled gravy, cook it again for few minutes till curry becomes thick.
Add chopped coriander leaves and serve it as a side dish with roti, paratha, or steamed rice.
• You can use regular potatoes instead of baby potatoes.
• You can also add other veggies like cauliflower, capsicum, etc.…
• If you don't like carrot in the curry then you can skip it.
Recipe by
Binjal's VEG Kitchen
at https://binjalsvegkitchen.com/baby-potatoes-green-gravy/