Mini Rasgulla (Chena Angoor)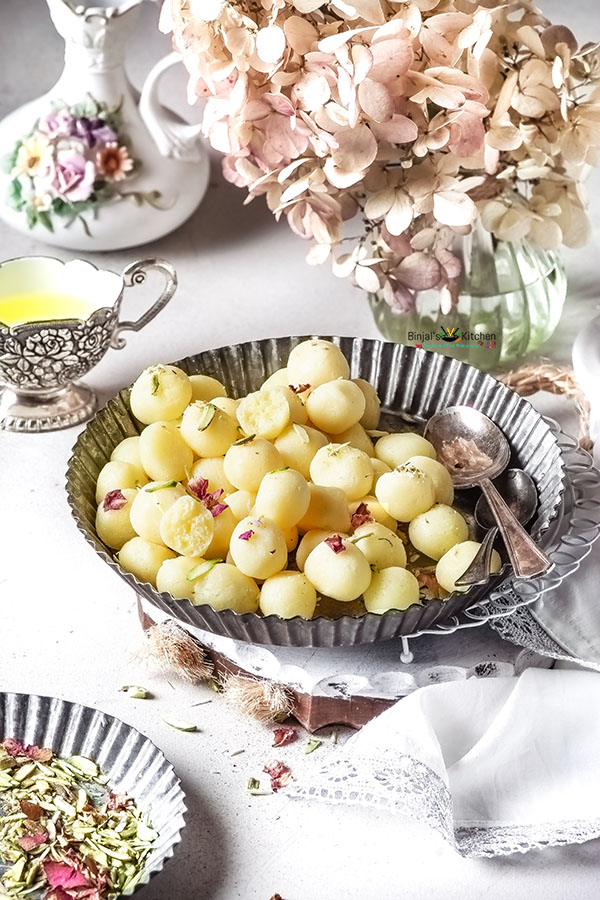 Recipe type:
Desserts & Sweets
1 litter Milk (4 cup)
1-2 tbsp Lemon Juice or Vinegar
1-2 tbsp Arrowroot/Corn flour
4 cup Water
2 cup Sugar
¼ tsp Cardamom Powder
Heat milk in a deep vessel or pan on medium to high flame and bring it to boil. Stir occasionally to avoid sticking.
When milk comes to boil or rise up, stir it again and switch off the flame, add lemon juice little by little and stirs the milk.
As soon as milk completely curdles and separates the light green water (if your milk not curdling, add little more lemon juice), set the cheese cloth or thin cotton cloth on strainer or colander and pour the curdled milk in it. Now pour cold water on curdle milk and remove or strain the whey.
Now collect the cheese cloth together with coagulated milk shreds lightly, and hang it on tap handle for 30 minutes.
Remove the prepared chena into a bowl. Add corn flour/arrowroot powder and mix well.
Now pace the mixture on the kitchen surface and knead it well using heels of your hand palms and make smooth dough.
Divide the dough into small-small portions and make smooth balls from it. Cover it with kitchen towel or dump cheese cloth and keep aside.
Heat water in a large pan, then add sugar, cardamom powder and keep stirring till sugar dissolves completely.
Once sugar syrup boils and starts bubbling, add prepared balls slowly one by one and simmer it for 3 minutes.
Keep in medium flame and close with a lid, cook it for 7-8 minutes, open the lid occasionally or every 2-3 minutes, this is to ensure the vapor passes out and not allowing the sugar syrup to ooze out. You can check after 7-8 minutes, the balls would be closely doubled in size.
Mini Rasgulla is ready. Let it be cool down, then place it into a freeze to chill it. Then serve it chilled.
• It stays fresh at least 1-2 weeks in a refrigerator.
• You can garnish it with chopped pistachios.
• You can add saffron thread in sugar syrup for more flavor and color.
• Don't throw the whey; you can use the whey to make chapatti, rice, soup etc.
Recipe by
Binjal's VEG Kitchen
at https://binjalsvegkitchen.com/mini-rasgulla-chena-angoor/