Stuffed Butternut Squash with Quinoa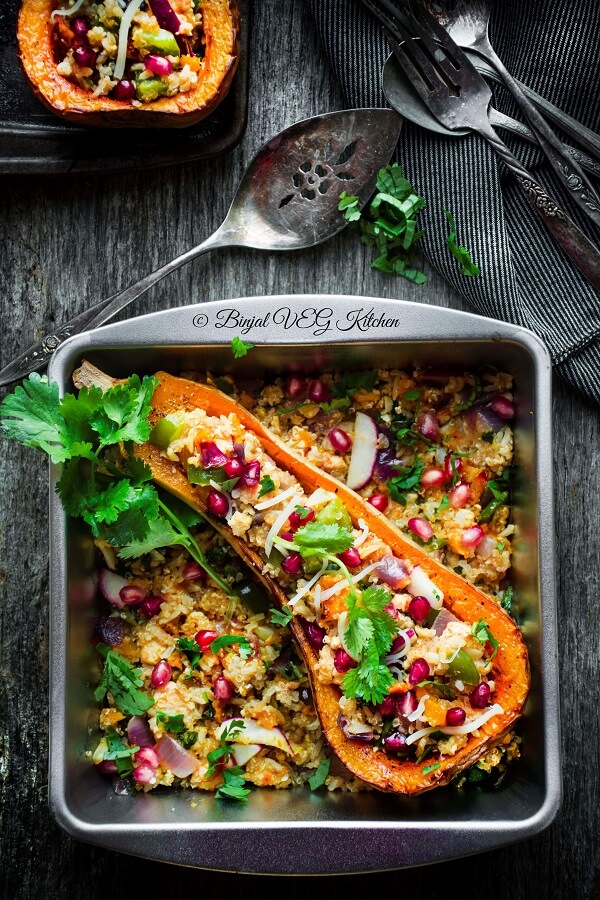 1 regular sized Butternut Squash
¼ cup Quinoa
¼ Brown Rice/Regular Rice
¼ chopped Capsicum
¼ cup Chopped Onion
¼ cup Crumbled Tofu
½ tsp Red Chili Powder/Cayenne Pepper
1 tbsp Lemon Juice
1-2 tsp Maple Syrup
½ tbsp Olive Oil
¼ tsp Black Pepper Powder
Salt
Olive Oil for Brushing or Olive Oil Spray
¼ cup Pomegranate
Chopped Cilantro
Grated Cheese (opt.)
Preheat the oven on 450F/220C.
Cut the butternut into halves, discard the seeds and make the space inside the butternut for stuffing using knife and spoon, and take removed part and cut into small-small cubes.
Place the both halved butternuts and spread the cubes on baking tray.
Brush it or spray it with olive oil and sprinkle some salt over the squash and bake it for 30-35 minutes till tender.
While baking, boil 2 cup water in to the vessel; add salt, washed and rinsed quinoa and rice. Cook it for 7-8 minutes (add water if needed) on high flame, once done keep aside.
Add minced garlic, chopped onion, capsicum, ½ tbsp olive oil in skillet and sauté it for 2-3 minutes.
Add crumbled tofu, lemon juice, maple syrup, salt, red chili powder and mix it well.
Now add cooked quinoa and rice, chopped parsley, mix it again and keep aside.
Now take baked butternut, place it on serving tray and sprinkle some black pepper powder.
Add baked butternut cubes into the quinoa rice mixture.
Spread the prepared mixture over the baked butternut halves, sprinkle some pomegranate, chopped parsley or cilantro and some grated cheese over it and serve.
• You can use any rice instead of brown rice or quinoa.
• You can add chopped celery instead of capsicum.
• You can bake it again for 2-3 minutes after stuffing.
Recipe by
Binjal's VEG Kitchen
at https://binjalsvegkitchen.com/stuffed-butternut-squash-quinoa/