Quick One Pot Spaghetti or Pasta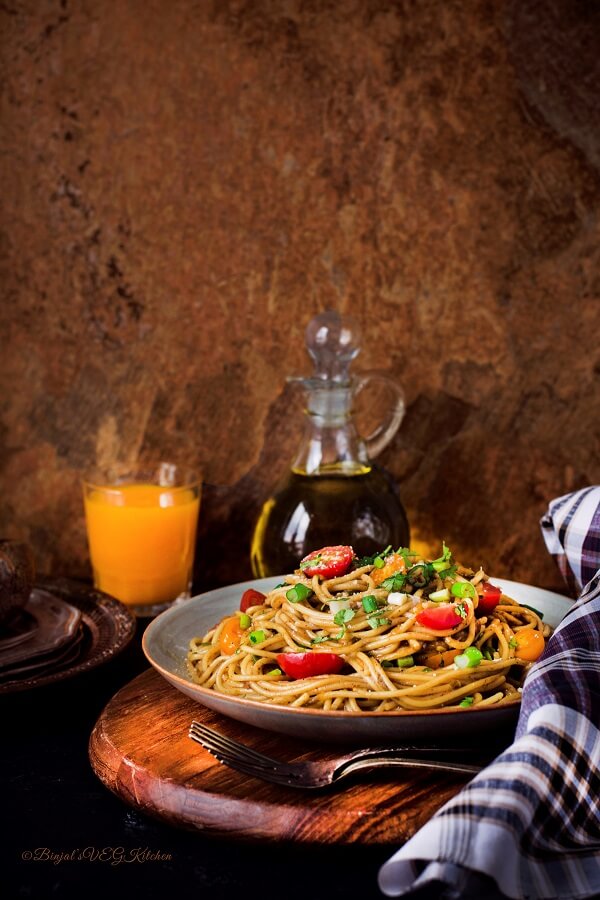 1 Packet Spaghetti
1 tbsp Oil
2-3 Clove Minced Garlic
½ cup Sliced Red Onion
1 Medium Sized Chopped Tomato
½ cup Chopped Spring Onion/Scallions
1 tsp Curry Powder
½ tsp Black Pepper Powder
½ tsp Italian Seasoning
¼ cup Chopped Parsley
5-6 Basil Leaves Chopped
Salt
4-5 cup Waters
¼ cup Grated Parmesan Cheese for Serving
½ cup Halved Cherry Tomatoes (Yellow/Red)
Heat oil in a big deep vessel on medium flame, add minced garlic, sauté it for few seconds, add chopped onion and stir fry it till soften.
Add spring onion, chopped tomato and again stir it for 1 minute.
Add curry powder, salt, black pepper powder, seasonings and mix it well.
Add chopped parsley, basil, water and bring it to the boil.
Once mixture is boiled, add spaghetti and cook it till soft or 7-8 minutes on medium flame.
One pot Spaghetti is ready, now add halved cherry tomatoes and mix it well.
Our one pot meal is ready, sprinkle some grated parmesan cheese and serve it hot.
• You can add chopped bell peppers, mushrooms or any other veggie as per your choice.
• You can use any shape spaghetti as per your choice.
Recipe by
Binjal's VEG Kitchen
at https://binjalsvegkitchen.com/quick-one-pot-spaghetti-pasta/