2 Minutes Microwave Eggless Molten Lava Cake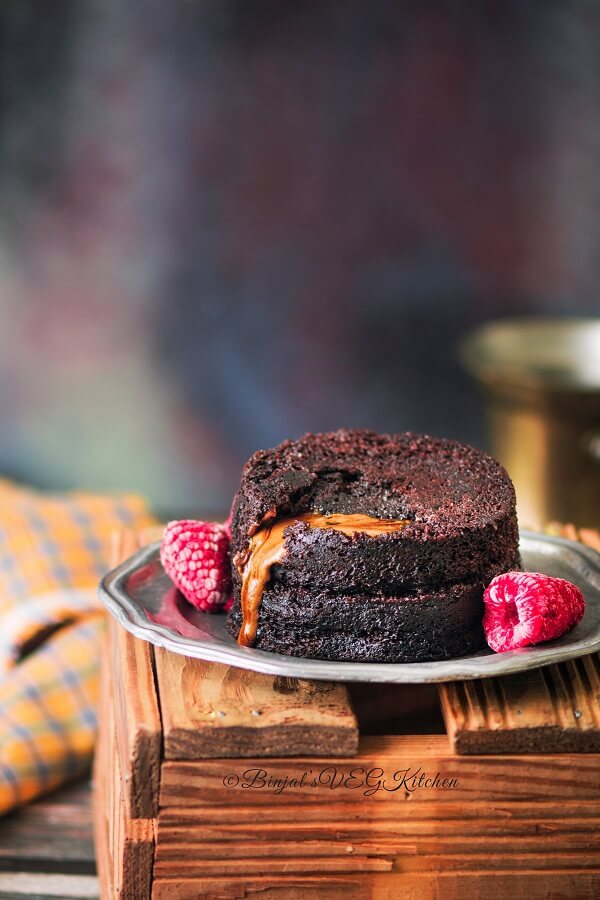 ¼ Cup All Purpose Flour
¼ cup Powder Sugar
1-2 tbsp Cocoa Powder
½ tsp Baking Powder
¼ tsp Baking Soda
Pinch of salt
1 tsp Vanilla Extract
1-2 tbsp Oil/Butter
¼ cup Milk/Almond Milk
*1-2 tbsp Peanut Butter + 1-2 Small Chunks of Chocolate OR (Chunks of Reese's Peanut Butter Chocolate)
Sieve flour, sugar, baking powder, baking soda, salt and coco powder into mixing bowl and mix it well.
Add milk gradually and mix it well.
Add oil, vanilla extract, mix it well and make runny batter (add more milk if required).
Now grease the microwave safe mold (glass or plastic), pour the prepared batter and fill the mold ¾, place the peanut butter + chocolate into the center.
Place the filled mold into the microwave and bake it on high power level for 1.30-2 minutes.
Remove it from the microwave and let it be cool down for 2 minutes.
Once cool down, then transfer it into the serving plate, molten lava cake is ready.
Serve it fresh, or you can serve it with ice cream and enjoy the moment...
• You can use almond or cashew milk for vegan lava cake.
• You can use any soft-smooth chocolate like Cadbury, Hershey, Dove…as per your choice.
Recipe by
Binjal's VEG Kitchen
at https://binjalsvegkitchen.com/2-minutes-microwave-eggless-molten-lava-cake/