Veggie Cheesy Corn Quesadilla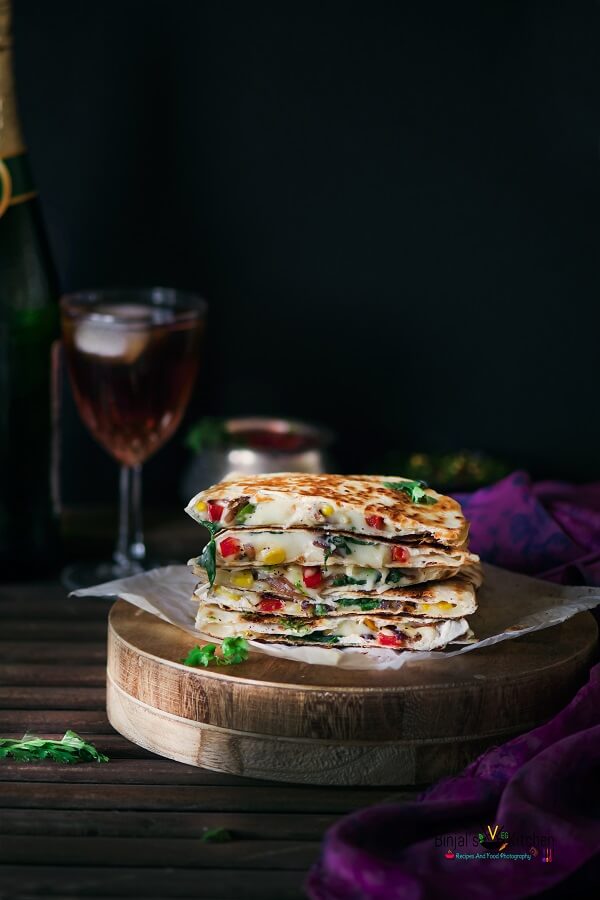 4-5 Homemade Tortillas Wrap/Flat Bread
1 cup Grated Mozzarella Cheese
½ cup Sweet Corns
½ cup Chopped Onion
¼ cup Fresh Tomato Salsa
1 cup Chopped Mix Peppers (Red, Orange, Yellow or Green)
½ cup Roughly Chopped Spinach
2-3 Garlic Cloves Minced
½ tsp Black Peppers Powder
½ tsp Red Crushed Peppers Flacks
½ tsp Sugar (optional)
salt
1 tbsp Oil for Veggies
Oil for Roasting
Heat oil in a pan. Add minced garlic, then add chopped onion, fry it till golden brown.
Add tomato salsa, sugar and sauté it for 2-3 minutes. Add chopped mix peppers and stir fry it for again 2-3 minutes on medium flame.
Now remove the prepared mixture into a bowl and add sweet corns, salt and black pepper powder in it.
Let it cool down for few minutes. Now add chopped spinach in it and mix it well.
Your stuffing mixture is ready, keep aside.
Now heat the griddle, spread or brush few drops of oil over it and place one tortilla flat bread.
Spread the 2-3 full spoon of the stuffing mixture over the tortilla's half circle part, then spread the grated cheese over the mixture.
Cover the another half circle over it and roast the stuffed tortilla both side using few drops of oil till both sides become crispy golden brown.
Now remove it into a plate and cut it into two pieces using pizza cutter or knife.
Use same process with the remaining stuffing mixture and tortillas to make more quesadillas from it.
Veggie Cheesy Corn Quesadilla is ready, serve it with salsa or with cilantro lime pesto or with any dip.
• You can add 1 tsp Italian seasoning for more taste.
• You can add any beans into the stuffing.
• You can even bake it in the 400F preheated oven for 7-8 minutes with spreading little oil.
Recipe by
Binjal's VEG Kitchen
at https://binjalsvegkitchen.com/veggie-cheesy-corn-quesadilla/