Khubani Ka Meetha or Qubani Ka Meetha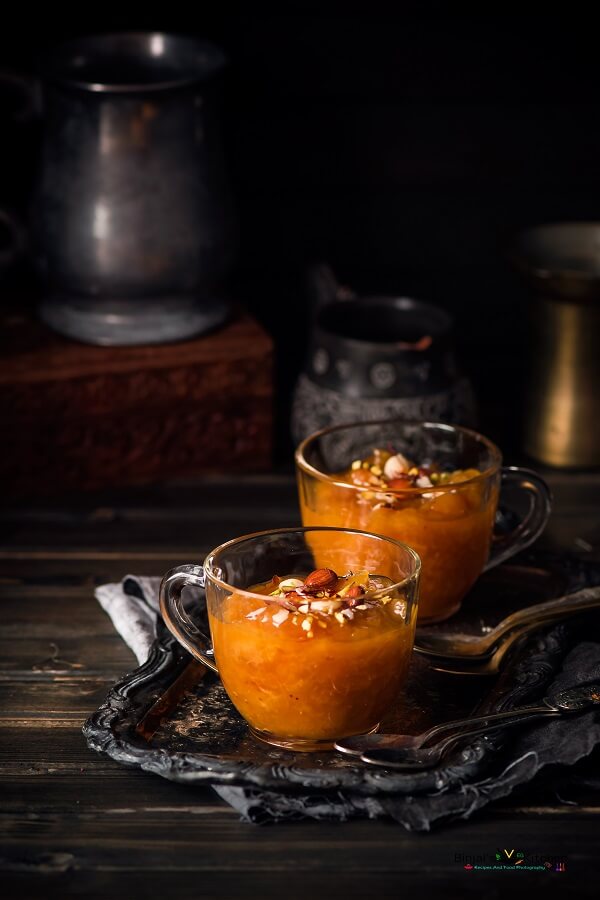 Recipe type:
Desserts & Sweets
250grams (25-30) Dried Apricots/Khubani
½ cup Sugar
1-2 tsp Lemon Juice
5-6 Strand Saffron/Kesar
¼ Cup Chopped Mixed Nuts (Almonds and Pistachios)
Wash the dried apricots and soak it in sufficient water at least 4-5 hours or overnight.
After soaking 4-5 hours or overnight it will become soft, remove it from the water and then remove the seeds and keep aside. Do not throw the soaked water, keep aside for cooking procedure.
Take the hard apricot seeds (kernel) and break it and remove the nuts (it similar like small almond) and throw the hard covers. Soak the apricots nuts into the hot water and keep aside till dessert done.
Now add soaked water into the pan. Add sugar in it and bring it to the boil till all sugar dissolve.
Add lemon juice, saffron threads, deseeded apricots, stir it and cook it till thick pulpy mixture, you can mash it with masher or hand blender to make smooth paste as per your choice.
Once it becomes thick pulpy mixture; add chopped mixed nuts and soaked apricots nuts in it, mix it well.
Khubani Ka Meetha is ready to serve hot or cold with sweet malai or vanilla ice cream or just plain with dried nuts and enjoy this Mughlai dessert.
• You can also use yellow soft dried apricots; you just need to soak them just for 3-4hrs. Although color little bit different than regular one, taste will be the same.
• You can remove the skin from soaked apricots nuts if you don't like.
• You can add 1 tsp vanilla extract to make it rich in taste.
• Adjust sugar level as per you taste.
Recipe by
Binjal's VEG Kitchen
at https://binjalsvegkitchen.com/khubani-ka-meetha-qubani-ka-meetha/