Rajasthani Mirchi Vada (Jodhpuri Mirchi Vada)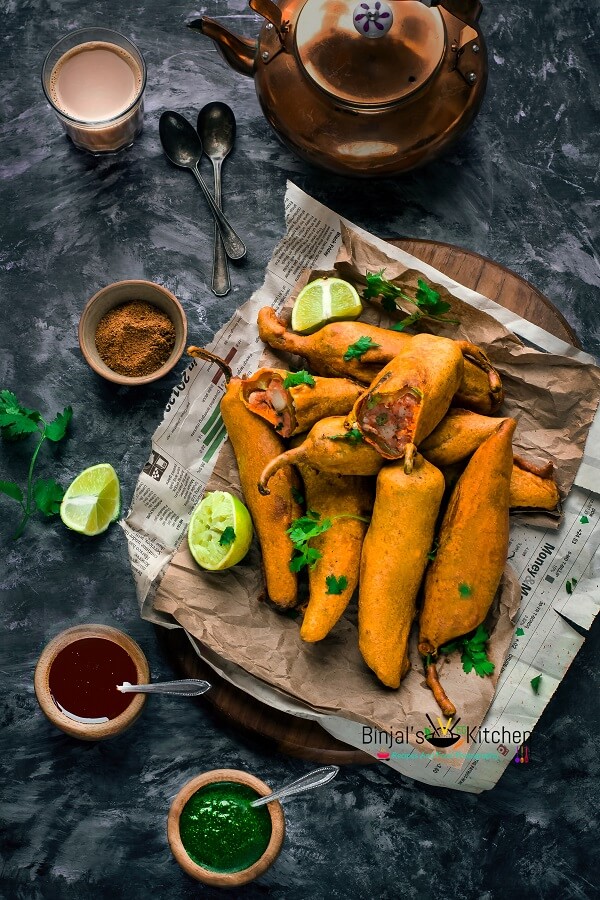 Recipe type:
Appetizers & Snacks
1 cup Gram Flour/Besan
¼ tsp Turmeric Powder
¼ tsp Red Chili Powder
Salt
3-4 Medium sized Potato boiled
2 Small Green Chilies Finely Chopped
½ tsp Red Chili Powder
½ tsp Amchoor Powder
½ tsp Cumin Seeds Powder
1 tbsp Coriander Seeds Powder
1 tsp Crushed Fennel Seeds/Sauf
Pinch of hing
Salt
2-3 tbsp Chopped Coriander Leaves
¼ tsp Anardana Powder (optional)
8-9 Big Large Green Chilies/Bhavnagri Mirch
Oil for Deep Frying
In a mixing bowl add all the batter ingredients and mix it well then add ½ cup of water gradually and make smooth lump free thick batter. Add more 1-2 tbsp water if required! Make sure batter should be neither thick nor thin, same like Pakora batter and then keep aside.
Peel and mash the boiled potatoes. Add chopped green chilies, red chili powder, cumin powder, Coriander powder, fennel, salt, Amchoor and anardana powder in it.
Now add chopped coriander leaves and mix it properly using your fingers and keep aside.
Take the large chili, wash and wipe it completely, then using sharp knife's point slit it length wise and deseed it. Use same process for remaining chilies.
Heat oil in a kadhai for deep frying.
Now take the stuffing mixture and stuff it into the large chilies using your fingers and press it with thumbs.
Now take prepared batter, dip the stuffed chili into the batter and coat the batter mixture properly all sides.
Then slowly drop the batter coated chili into the hot oil and fry it all side on low medium flame till golden brown. Fry all remaining stuffed chilies one by one same way.
Your Rajasthani Mirchi Vada is ready. Remove the fried vadas on absorbent paper. Serve hot with chutneys and hot cup of tea and enjoy the snack.
• If Bhavnagri Chilies are not available, then you Can use Jalapeno Pepper.
• You can store half fried chilies into the air tight container and then double fry it till golden brown before serving.
• You can use 1 tbsp lemon juice instead of Amchoor powder.
• I used Italian Green Cubanelle Chile peppers which is available in most of Walmart and Wegmans stores.
Recipe by
Binjal's VEG Kitchen
at https://binjalsvegkitchen.com/rajasthani-mirchi-vada-chili-fritter/