Roasted Chickpeas and Cauliflower Tacos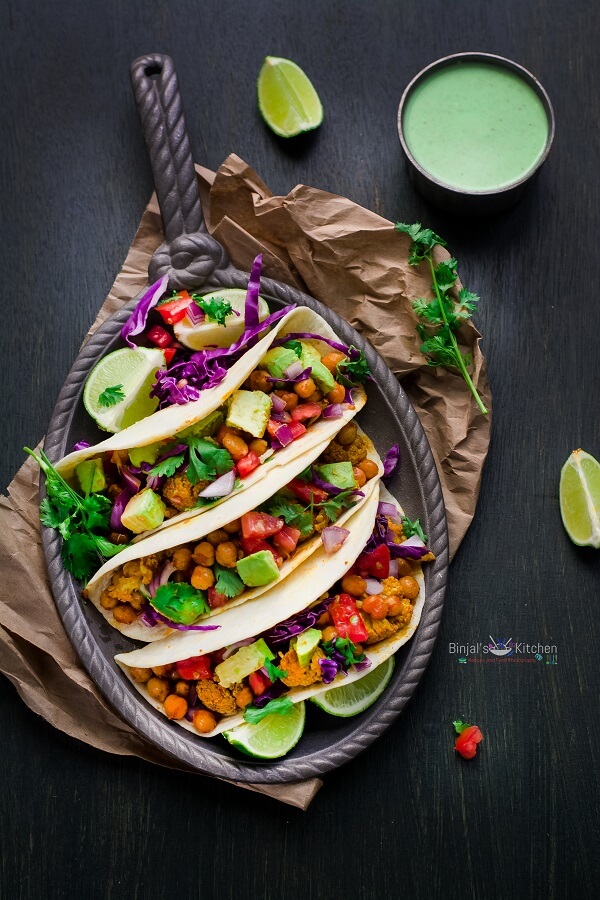 Recipe type:
Appetizers & Snacks
5-6 Homemade Tortillas
1 Small Head of Roughly Chopped Cauliflowers Florets
1 Can Chickpeas/1 ½ Cup Boiled and Cooked Chickpeas
2-3 tbsp Homemade Tandoori Masala
1 tbsp Oil
Salt
½ cup Chopped Tomato
½ cup Chopped Onion
½ cup Chopped Red Cabbage
1 Avocado Diced
2-3 tbsp Chopped Cilantro
½ Lemon Juice
¼ tsp Black Pepper Powder
½ cup Coriander/cilantro Dip
Wash and drain cauliflower florets, then heat oil into a pan and add the cauliflower florets and ¼ tsp salt, then stir it and cover it for 3-4 minutes.
Now add cooked chickpeas, tandoori masala and 2-3 pinch salt (if required), then roast it on medium flame for 4-5 minutes. Now remove it from the flame and keep aside.
In a mixing bowl add chopped onion, tomato, avocado, red cabbage, lemon juice, black pepper, chopped cilantro and salt, then mix it with spoon and keep aside.
Now heat the griddle and place the tortilla on it, cook the both sides till gets golden brown spot. Use same procedure for remaining tortillas.
Place the cooked tortilla on a serving plate and spread the roasted cauliflower and chickpeas mixture over it.
Then place 2-3 spoon of the prepared fresh veggies mixture (avocado/onion/prepared cabbage mixture) on it and fold the tortilla.
Roasted Chickpeas and Cauliflower Tacos is ready. You can serve it with coriander mint dip.
• You can roast chick peas and cauliflowers into the preheated oven on 400F.
• You can spread the dip over the prepared tacos as per your choice.
• You can also use sour cream instead of dip into the tacos.
Recipe by
Binjal's VEG Kitchen
at https://binjalsvegkitchen.com/roasted-chickpeas-cauliflower-tacos/