Sweet Lemon Pickle (Limbu Nu Athanu)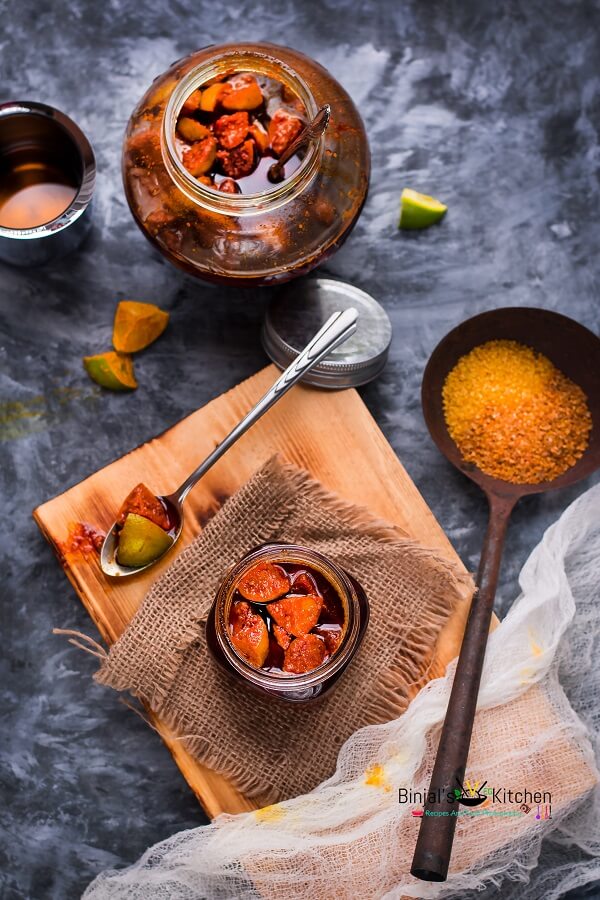 Recipe type:
Pickle & Kitchen Basics
12-15 Key Limes/Thin Skinned Lemons
Salt
1-2 tsp Turmeric Powder
2 tbsp Crushed Fenugreek Seeds
2-3 tbsp Crushed Yellow Mustard Seeds
1 tsp Crushed Fennel Seeds
1 tbsp Coriander Seeds Powder
1 tsp Cumin Seeds Powder
1-2 tbsp Red Chili Powder
¼ tsp Hing/Asafoetida
½ Cup Grated Jaggery/Sugar
2 tbsp Oil for Tempering
¼ cup Mustard Oil
Wash and wipe the lime, allow to dry, then cut each lemon into 8 equal pieces.
Take a bowl add chopped lemon, 1-2 tsp salt and turmeric, mix it very well, cover it and keep aside in dry a place for 24 hours.
Next day boil 2-3 cup of water into the wide pan. Add soaked lemon in it and bring it to the boil.
Strain the water mixture using sieve and remove all water, spread all lemon on kitchen towel and dry it.
Now heat oil in a pan. Add hing, mustard seeds, fenugreek seeds and fennel in the pan, stir it for 2-3 second on low flame, then add red chili powder, coriander powder and cumin powder, stir it again for few seconds, now add grated jaggery, continue stirring it till melted on low flame.
Take lemon pieces add into the jaggery-masala mixture and add salt as per taste, switch of the flame, mix it properly, allow it to cool down completely, then add into the glass jar and keep aside.
Now last step is to keep lemon pickle long lasting, heat the mustard oil in to the small sauce pan, let it cool down, then pour over the prepared lemon pickle, mix it slowly using spoon, cover the lid and place it into the dry place (kitchen shelves).
Sweet Lemon Pickle or Limbu Nu Athanu is ready to use, serve it with meal as a side or serve it with Mathari or a dry snacks item and enjoy the pickle.
• You can store this pickle in a jar up to 2 months in kitchen shelve.
• You can make this pickle in any season in any weather.
• You can add chopped green chilies into this pickle for sour and spicy pickle.
• You can use brown sugar instead of jaggery.
Recipe by
Binjal's VEG Kitchen
at https://binjalsvegkitchen.com/sweet-lemon-pickle-limbu-nu-athanu/