Veggie Bread Cutlets (Tikki)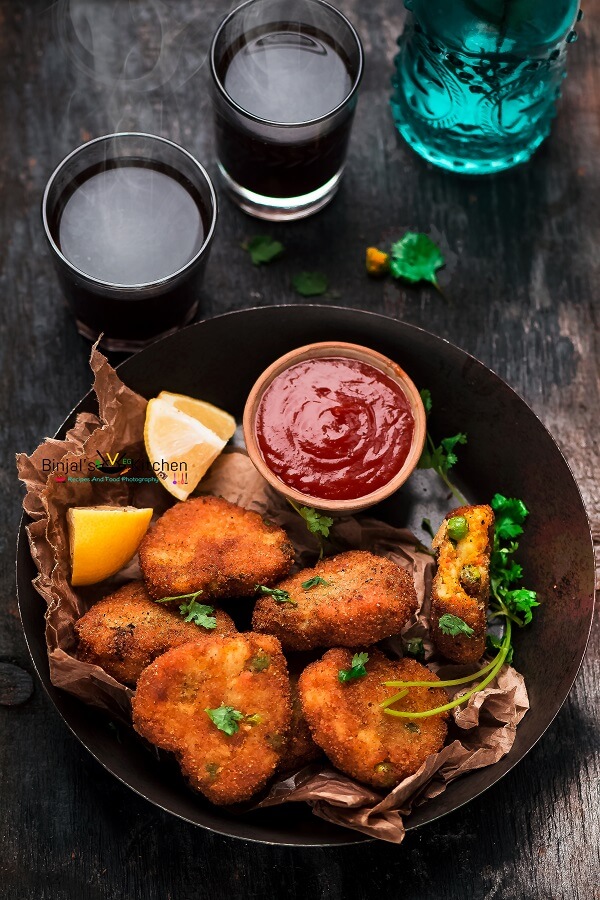 Recipe type:
Appetizers & Snacks
4-5 Bread Slices (Used Leftover)
2-3 medium Sized Boiled Potatoes
½ cup Boiled Green Peas
¼ cup Grated Carrot
1 Green Chili Finely Chopped
½ tsp Red Chili Powder
¼ tsp Turmeric Powder
½ tsp Garam Masala
½ lemon Juice
2-3 tbsp Chopped Coriander Leaves
Salt
3-4 tbsp Corn Flour/Maida
¼ cup Bread Crumbs or Corn Flakes Crumbs
Oil for Shallow Fry
First add bread slices into the food processor or mixer and make a crumbly mixture.
Remove it into the mixing bowl, now peel the skin of boiled Potatoes and mash it into the bread mixture.
Add green peas, grated carrot, green chili, red chili powder, turmeric, garam masala, lemon juice, chopped coriander leaves and salt.
Now mix the all mixture properly using your hand, take heart shaped cookie cutter, press the mixture into that and make heart shaped cutlets. You can make it round shaped cutlets too if you don't have cookie cutter.
Now in a small bowl add corn flour, add ¼ cup water and make thin paste.
Dip the prepared cutlet into that paste than coat it with the bread crumbs, use same process for reaming cutlets and keep aside.
Heat the oil into the pan for shallow frying, place the coated cutlets into the oil and fry them both sides till golden brown, remove it on the kitchen paper towel.
Veggie bread cutlets are ready. You can serve with chutney, ketchup and enjoy with your garma garam tea…
• You can also add shredded cabbage too.
• You can freeze unfried prepared cutlets and later fry it when needed…same like cheese sticks.
Recipe by
Binjal's VEG Kitchen
at https://binjalsvegkitchen.com/veggie-bread-cutlets-tikki/