Eggless Polish Cream Cheese Cookies (Kolacky)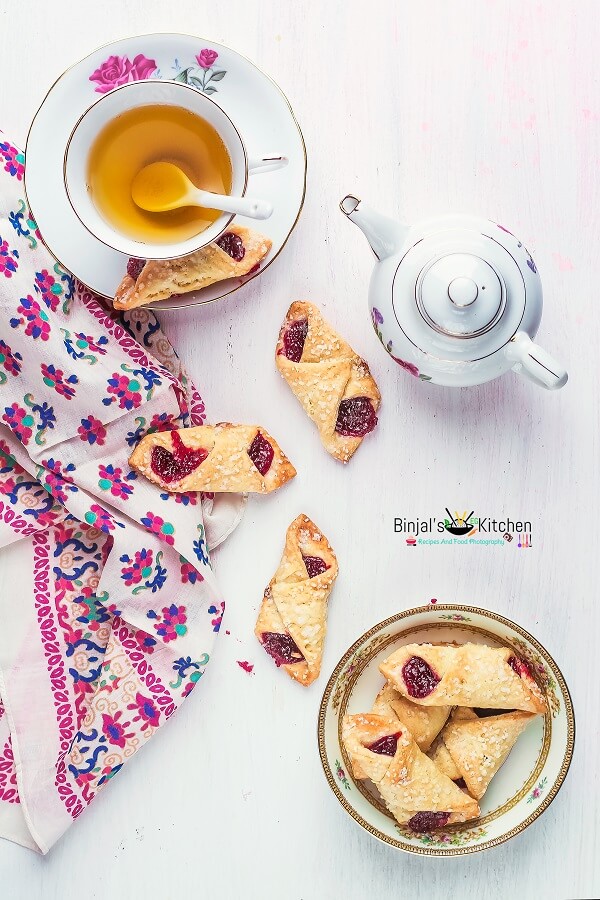 ½ cup Cream Cheese
½ cup Butter, Softened
¼ tsp Salt
1 ½ cup All Purpose Flour + Extra for Dusting
¼ tsp Baking Powder
½ cup Any Fruit Jam or Preserves (I used Raspberry Chia Jam)
¼ cup Granulated Sugar
In a mixing bowl add soft butter and cream cheese and mix it using electric hand mixer or you can use hand whisker and bit it till soft and smooth mixture.
In another mixing bowl add flour, salt and baking powder and mix it well.
Now add the flour mixture into the cream cheese mixture, mix it, knead it and make the smooth soft dough, wrap the dough with plastic wrap and keep it inside the refrigerator at least 1 hour.
Preheat the oven on 350°F/175°C.
Take the prepared dough, divide it into two parts, cover it another one and again keep inside the refrigerator until working on first one dough part.
Dust the little flour on working place, roll out the dough in thin, less than ⅛ inch thin.
Take a pastry wheel cutter or sharp knife and trim the dough into a square then cut it into small-small squares (about 2 inch).
Place the ½ tsp jam on center of each squares, gently grab two opposite corners and fold one over the other, gently pressing down to try and seal them together.
Use same method for remaining squares and make more Kolackys.
Take another dough ball and use same method as first one dough ball.
Take a baking sheet, line it with parchment paper, place the prepared filled squares over it but no closer than 1 inch.
Sprinkle 2-3 pinches granulated sugar over the each Kolackys, place it into the preheated oven and bake it about 12-15 minutes or till slightly golden brown.
Remove the baked Kolackys from the oven, let it cool slightly on the same baking sheet and then move them gently to a wire rack to cool down completely.
Eggless Polish Cream Cheese Cookies are ready now. You can serve it with cup of tea and enjoy the treat.
• You can keep the prepared dough into the refrigerator up to 1 day.
• You can use any fruit jam for filling.
• Make any shape as per your choice, like thumb print cookies.
• You can sprinkle the powder sugar instead of granulated sugar.
Recipe by
Binjal's VEG Kitchen
at https://binjalsvegkitchen.com/eggless-polish-cream-cheese-cookies-kolacky/