Eggless Stained Glass Ginger Cookiess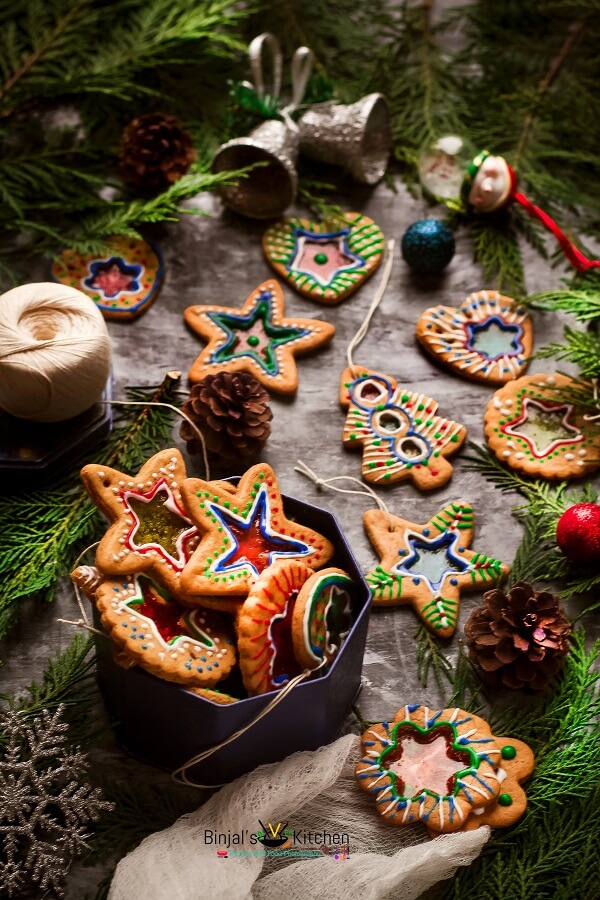 2 cup All Purpose Flour
½ cup (1 stick) butter
1 cup Powdered Brown Sugar
1-2 tbsp Molasses/Date Syrup
2-3 tsp Ground Ginger
1 tsp Cinnamon Powder
¼ tsp Nutmeg Powder
¼ tsp Clove Powder
1tsp Vanilla Extract
2-3 tbsp Milk
¼ tsp Salt
½ tsp Baking Powder
30-40 Hard Candys
1 cup Soft Butter
3 cup Confectioner Sugar
1 tsp Vanilla Extract
Food Color (as per your choice green, blue, yellow or red)
In a mixing bowl add butter, sugar, Molasses, Vanilla extract, milk and bit the mixture using a hand mixer till smooth and soft batter.
In another bowl add flour, baking powder, salt, all spices and mix it well.
Now add flour and the spices mixture into the prepared butter mixture, mix it well and make a dough.
Wrap the dough with plastic wrap and place it into a refrigerator about 1 hr.
Preheat an oven on 180C/375F. Line the baking sheet(pan) with parchment paper and keep aside.
Remove the plastic wrapping from the hard candies. Sort the hard candies by color and place them into separate plastic bags. Crush the candies with a mallet or hammer.
Take the chilled dough and divide it into the 2-3 parts. Place one of the dough ball between two large sheets of waxed paper and use a rolling pin to roll out to an even thickness of ¼ inch.
Use cookies cutter to cut the dough into forms. Transfer the cookies to the prepared baking sheet, placing them about 1 inch apart from each other.
Using a smaller cookie cutter or a knife, cut shapes into centers of cookies, and then fill the crushed candy into the empty centers of the cookies, try to keep the crushed candy within the centers.
Bake it for 9 to 10 minutes, make sure the candy should be bubbly and the cookies just barely beginning to brown.
Remove the baking sheets from the oven, let it cool down completely on sheet at least 10 minutes; otherwise, the candy centers may separate from the dough. When cookies are completely cooled, remove it and keep aside.
Add soft butter in a bowl, whisk it well then add powder sugar and mix it well till light and fluffy.
Add vanilla extract, mix it well and divide it into 4-5 bowls, and add color and different flavor as per your choice.
Now add the prepared icing in piping bags separately and make a design on the cookies as per your choice.
• If you are planning to use cookies as decorative ornaments like to hang on a Christmas tree, poke a small hole in the top of each cookie before baking.
Recipe by
Binjal's VEG Kitchen
at https://binjalsvegkitchen.com/eggless-stained-glass-ginger-cookies/