Herbed Focaccia Bread with Olive and Cherry Tomatoes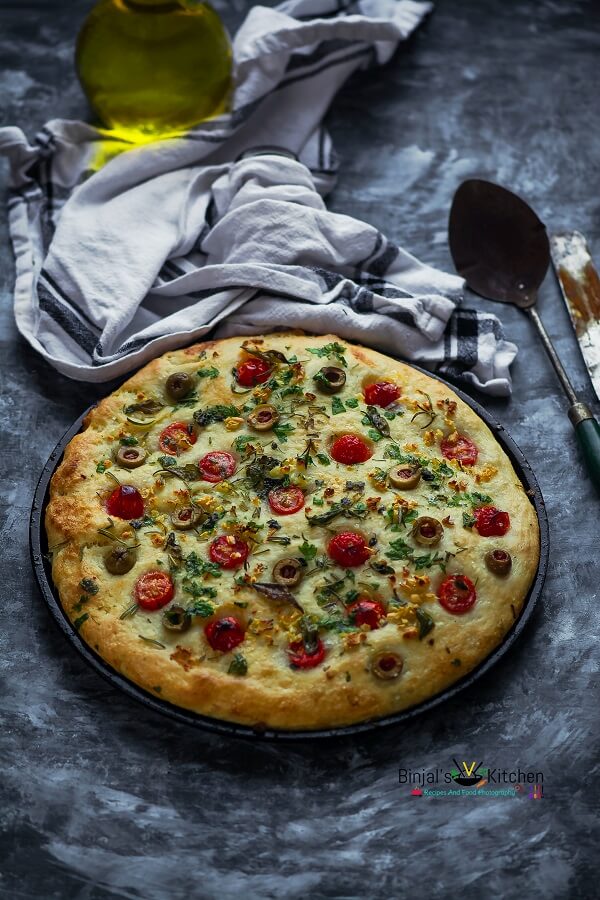 Recipe type:
Bread & Baking
2 ½ cup All Purpose Flour
2-3 tsp (1 Packet) Dry Active Yeast
1 tbsp Sugar
1 cup Warm Water
2 tbsp Olive Oil
Salt
½ tsp Garlic Powder
1-2 tsp Italian Seasoning
½ cup Halved Cherry or Greps Tomatoes
¼ cup Halved Pitted Olive
1 tsp Minced Garlic
¼ cup chopped Fresh Herbs (Rosemary, Thyme, Basil, Oregano and Parsley)
2-3 tbsp Olive Oil for Brushing
Sea Salt or Coarse Salt for Sprinkling
Take a small bowl. Add warm water, sugar and mix it until dissolve. Add dry active yeast and cover the bowl for 8-10 mins or till yeast become foamy and bubbly.
Take another large bowl. Add flour, salt, garlic powder, Italian seasoning, olive oil and mix it well.
Now add the prepared yeast liquid mixture into the floured mixture, knead it, add 2-3 tbsp water if required and make a smooth soft dough.
Cover the dough and keep aside on warm place till it becomes double, typically it takes about 35-40 mins.
Preheat an oven on 450F(230C).
Now take a baking sheet or cast iron skillet, brush it with olive oil and keep aside.
Take the dough, punch it down and make a dough ball and place it on the baking sheet or skillet.
Pat the dough ball, and make a thick circle (about ½ inch thick) and finger impressions over it, something like dimples all over it.
Now place the halved tomatoes and olives into each dimple ?, generously brush the top with olive oil, spread the chopped fresh herbs and minced garlic, sprinkle 2-3 pinches of coarse salt over it and allow the dough to rest for 10-15 mins.
Bake in the preheated oven for 15-20 minutes, or until the both sides begin to brown then place under the broiler till the top becomes golden brown, remove it from the oven and serve warm with soup or dips. You can also serve it simply as a sides ? and enjoy.
• If you don't have garlic powder you can use garlic paste or just skip it.
• You can use dried herb instead of fresh ones.
• For best result use cast iron skillet.
• You can use other toppings too like onion, bell pepper, etc...as per your choice.
Recipe by
Binjal's VEG Kitchen
at https://binjalsvegkitchen.com/herbed-focaccia-bread-olive-cherry-tomatoes/