Khatta Dhokla - White Dhokla - Recipe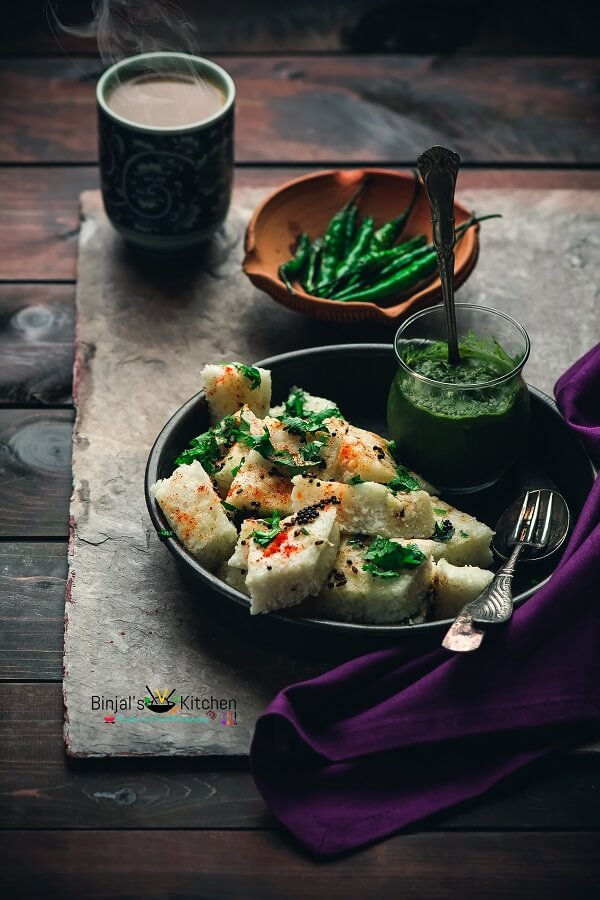 Recipe type:
Appetizers & Snacks
2 ½ cup Idli Rice/Regular Rice
¾ cup Urad Dal
¼ cup Chana Dal
½ cup Sour Yogurt/Curd/Khatta Dahi
2 tsp Ginger-Green Chili Paste
Salt
½ tsp Baking Soda
2-3 tbsp Oil
5-6 Curry Leaves
½ tsp Mustard Seeds
½ tsp Cumin Seeds
Pinch of Hing/Asafoetida
Chopped Coriander Leaves for Garnishing
Add rice and both dals into the big bowl, wash and drain it for 2-3 times with water, and then soak it in required water for 5-6 hrs or overnight.
Drain the water from the soaked rice-dal mixture. Now add it into the mixer jar (in 2-3 batches), add yogurt and blend it into the smooth paste. Add little water while grinding and make a batter, it should be little bit thinner than Idli batter.
Cover it and place it near the warm place for 7-8 hrs or overnight till it got fermented.
Now add ginger-green chili paste, baking soda and salt into the batter, mix it well and keep aside.
In steamer pot add 2 cup of water and bring it to boiling. Place the stand for dhokla plate inside the steamer.
Take a plate for dhokla, grease it with few drops of oil, pour the dhokla batter into the greased plate till ¾ level.
Place the dhokla batter plate into the steamer over the stand, cover the steamer and steam it for 10-12 mins.
Remove the steamed dhokla plate from the steamer and keep aside, use same method for remaining batter to make more steamed dhokla plates.
Let it cool down little bit then cut it using a sharp knife into the square or diamond shape or as per choice.
Now heat oil into the small pan. Add mustard seeds, cumin seeds and allow it to crackling, then add hing, curry leaves in it. Switch of the flame and pour the prepared tampering all over the steamed dhokla.
Sprinkle a pinch of red chili powder, garnish it with chopped coriander leaves and serve it with green chutney or fried salty chilies. You can also enjoy this fresh, healthy steamed Khatta Dhokla with a hot cup of tea.
• If your batter is not sour after fermentation, then add ¼ tsp lemon salt or 1 tsp lemon juice in it to make it more sour.
• You can add ginger and green chili while grinding the batter instead of paste.
• You can keep the prepared batter up to a week inside the refrigerator and use it whenever you want.
• You can skip the chana dal and increase the urad dal quantity instead of it.
• For this dhokla you can use Idli batter too.
Recipe by
Binjal's VEG Kitchen
at https://binjalsvegkitchen.com/khatta-dhokla-white-dhokla-recipe/