Vegan Meringue Recipe (Aquafaba)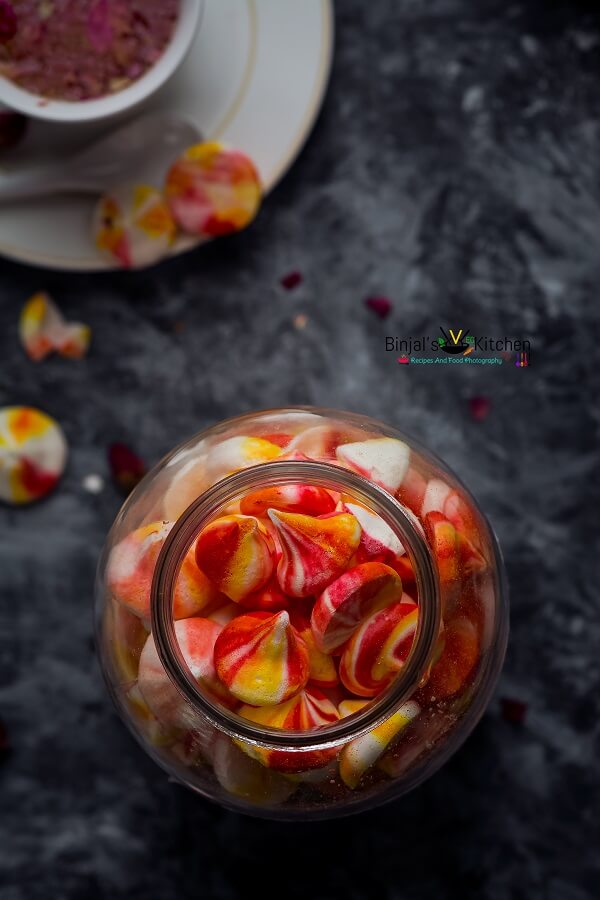 2 cup Chickpeas/Garbanzo Beans/Chana
8 cup water
½ cup powder Sugar
½ tsp White Vinegar
½ tsp Vanilla Extract
2-3 tsp Beetroot Juice (Fresh Beetroot Grated and Squeezed)
2-3 Pinch tsp Turmeric (Dissolved in 1 tbsp Water)
Wash and soak the chickpeas for 7-8 hrs, then drain the water.
In a large deep pan add soaked chickpeas, 8 cup of water and cook it about 60-70 mins, first cook on high flame till boiling point then turn the flame on medium to low flame and cook it till soft.
Let it cool down completely, then drain the cooked water into a small container and store it into a refrigerator.
Aquafaba water is ready use it whenever you want.
Residual chickpeas you could use for to cook Chana Masala.
Take a big bowl, add the prepared ½ cup aquafaba, then whisk it using a electric whisk or strand mixer and whisk it till stiff foamy peak.
Check the foam bowl, doing upside down, if foam is not sliding that means its perfect.
Now add vanilla extract, vinegar and again whisk it.
Add sugar gradually 1-1 tbsp into the foamy mixture, mix it well till glossy and thick mixture like soft icing. Keep aside.
Preheat an oven on 110C/210F.
Line parchment paper on a baking sheet and keep aside.
Now take a ziplock bag, trickle ½ -½ tsp of beetroot juice and liquid turmeric inside making sure it coats the insides of the bag and doesn't gather at the bottom.
Now spoon meringue mixture into the bag – you may want to lay the bag on its side for this so that the beetroot and turmeric juice doesn't all run to the corner of the bag.
Cut the small corner of the bag and use it like a piping bag and make Meringue onto the lined baking sheet. Make a space between all Meringues.
Now bake the piped meringues in the preheated oven about 70-75 mins, then turn off the oven but leave the meringue cookies inside for another 30-35 mins, so it can be easily removable and dry out fully.
Vegan Meringue are ready, store it into the air tight container to avoid from air moisture.
• You can use caned low sodium chickpeas and use that water.
• You can store leftover chickpeas water into the refrigerator.
• Please use cleaned bowl, whisk, spoon etc. it should not be greasy, otherwise it won't come out well.
Recipe by
Binjal's VEG Kitchen
at https://binjalsvegkitchen.com/vegan-meringue-recipe-aquafaba/