Leftover Rice Sandwich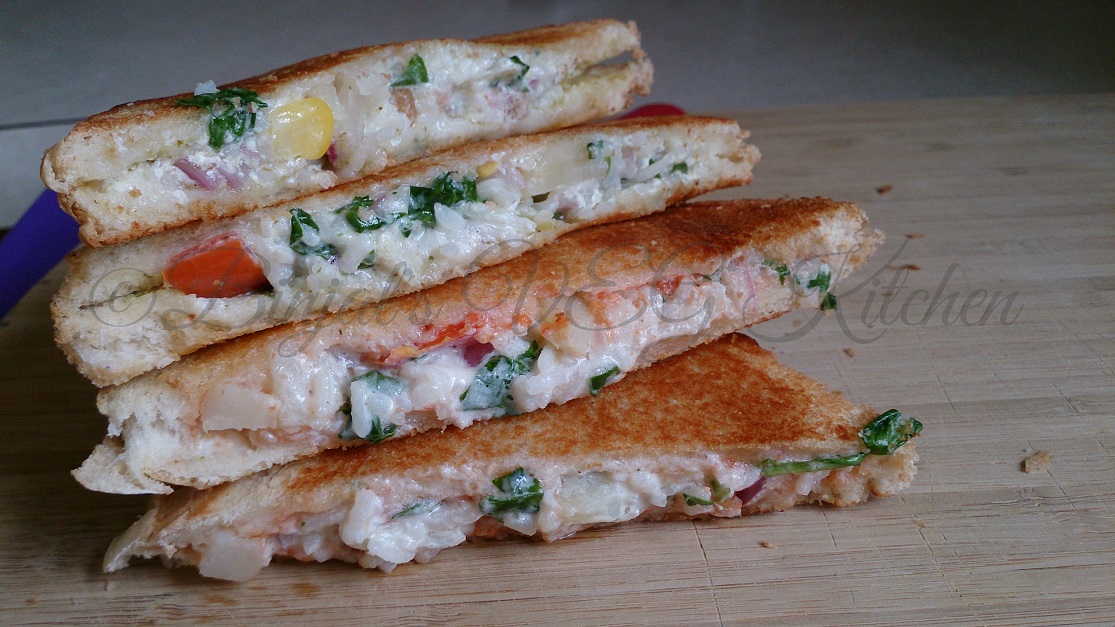 Bread Slices or Bun
½ cup Rice
¼ cup chopped Spinach
¼ cup Sweet Corn
¼ cup chopped Tomato
¼ cup chopped Onion
¼ cup Cucumber
¼ cup Sprout
1 cup Yogurt
½ tsp Black Pepper Powder
Salt
Green Chutney (Coriander-Mint)
Tomato Ketchup
Melted Butter
Take a bowl; add rice, chopped spinach, sweet corn, chopped tomato, chopped onion, chopped cucumber, sprout and mix well then add salt, black pepper, yogurt and again mix well, keep aside. You could use diced apple too.
Take 2 slice of bread, spread green chutney on one slice and spread ketchup on another slice.
Now spread full of spoon rice mixture on one slice and cover ketchup slice on it then spread lightly melted butter outer side of sandwich and either roast or toast or grill your sandwich both side till it becomes golden brown.
Enjoy your iron pack, protein pack, Leftover Rice Sandwich whatever you say.