Eggless Lavender Berry Muffins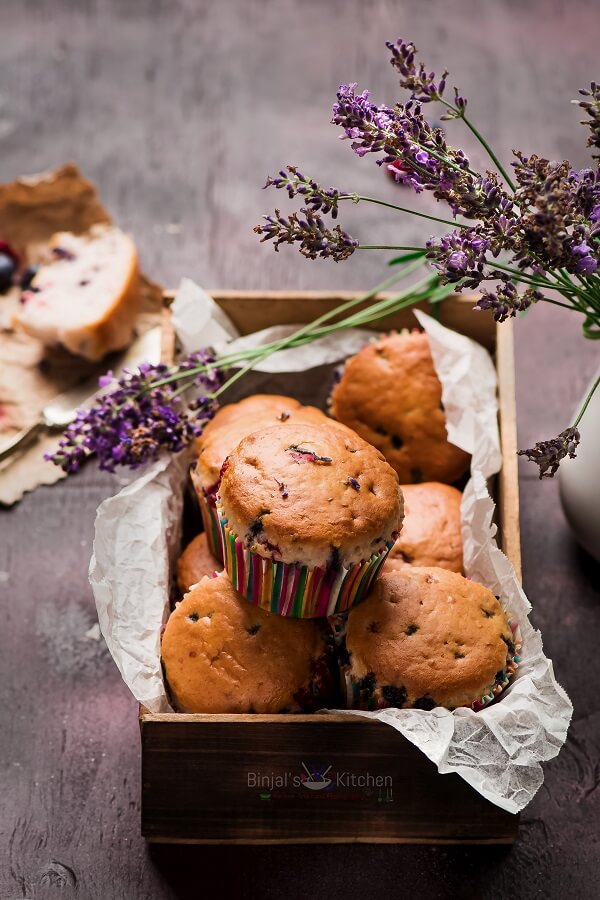 Recipe type:
Desserts & Sweets
2 ½ Cup All Purpose Flour
3 tsp Baking Powder
¼ tsp Salt
1 cup Milk
1 cup Sugar
¼ cup Oil
1 tsp Vanilla Extract
1 tbsp White Vinegar
1 Ripe Banana Mashed
1 cup Mix Frozen Berries (Blueberries and Raspberry)
1-2 tsp Lavender Flowers (Dried or Fresh)
Muffin Molds and Pan
Preheat an oven on 350F or 180C.
Take a large mixing bowl. Add the flour, sugar, baking powder, salt and keep aside.
In another bowl add mashed banana, vanilla extract, milk, oil and mix it well.
Now add the wet mixture into the dry mixture and mix it well till no lumps, then add white vinegar, mix it and make a smooth batter.
Add frozen berries, lavender flowers and fold the batter using spatula.
Take a muffin pan, place muffin liner or mold and fill the batter ⅔ into the molds.
Place the pan into the preheated oven and bake it about 40-45 mins or insert a toothpick into the center of one of the muffins and if it comes out clean means it is done.
Remove the pan from oven and let it cool down for 10mins.
Eggless Lavender Berry Muffins are ready! Enjoy the muffins with a cup of tea or coffee or just enjoy as a dessert.
• You can use dried or fresh berries instead of frozen.
• You can store the muffins into an airtight container in a fridge up to the week.
Recipe by
Binjal's VEG Kitchen
at https://binjalsvegkitchen.com/eggless-lavender-berry-muffins/