Eggless Coconut Chocolate Cake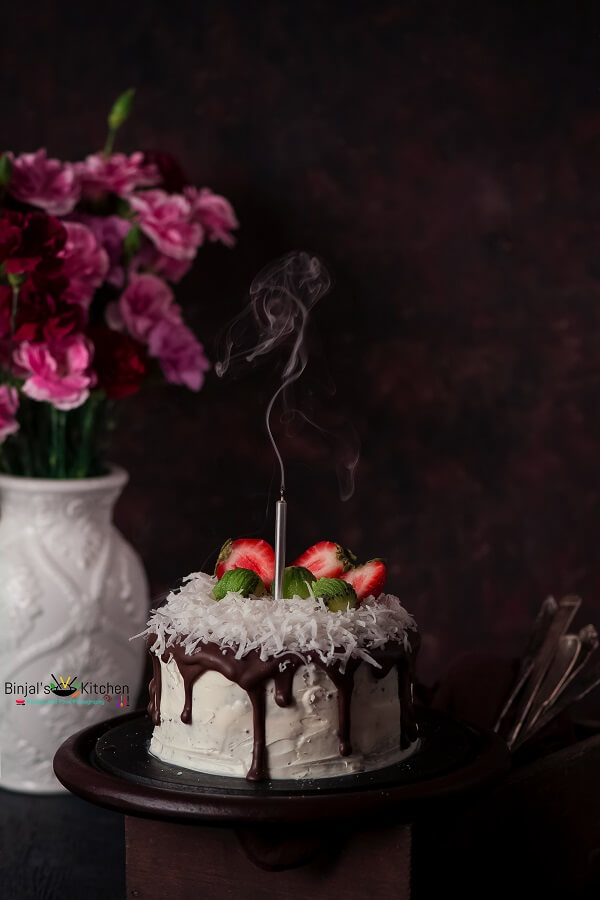 Recipe type:
Baking & Dessert
2 ½ cups All-Purpose flour/Cake Flour
2 cups Powder Sugar
½ cup Unsweetened Cocoa Powder
½ tsp Baking Soda
1 tsp Baking Powder
1 tsp Salt
2 cups Milk
½ cup Oil
2 tbsp Melted Butter
3 tsp Vanilla Extract
2-3 tbsp White Vinegar
¼ cup Hot Water
Oil and flour for Greasing and Dusting
250g Cream Cheese
¼ cup Unsalted Melted Butter
2 cups Powder Sugar
2 tbsp Cream or Milk
1 tsp Vanilla Extract
1 cup Chocolate Chips
1 cups Sweetened Coconut Flakes or Shredded Coconut
Strawberries and Kiwi Fruits for Decoration (Optional)
Preheat an oven on 350F/175C.
Sieve the flour, sugar, baking powder, baking soda and cocoa powder through strainer and mix it well.
Now in another bowl, add all wet ingredients (water, butter, oil, milk and vanilla extract) and mix well with spoon.
Now slowly-slowly add wet mixture into the flour mixture and mix it with a spatula and make a lump free mixture, you can use hand whisker to mix and make a smooth batter.
Take round 6 inch springform or baking pans/tins, divide the mixture/batter evenly between the two pans.
Place the pans/tins into the preheated oven and bake it for 35-40 minutes or until a toothpick inserted into the center of the cake comes out clean.
Once done, let it be cool down for 3-4 minutes, then remove it on the cooling rack and allow it cool down completely about 10-15 minutes before frosting.
In another mixing bowl, add cream cheese (soften in room temperatures), melted butter and mix it well for 3-4 minutes till foamy and soft.
Add powder sugar, vanilla extract, milk or cream and mix it well, stir it for 3-4 minutes, make soft and foamy frosting.
Remove the thin slice top of the both cakes using a sharp knife and make a flat surface.
Now take one cake, evenly spread the frosting over the cake surface and sprinkle some coconut flakes over it.
Then place the second cake on it, again spread the prepared frosting over the top and sides of the cake, remove the extra frosting using scraper and make thin coat all sides.
Now take the chocolate chips in a microwave safe bowl and melt it as per the package direction.
Drizzle the melted chocolate along the edge of the cake all the way around, allowing it to drip down the sides.
Then Sprinkle remaining shredded coconut over the top and decorate it with halved strawberries and kiwi balls.
Eggless Coconut Chocolate Cake is ready, place it in the fridge and serve whenever you want!
• You can store the cake in the fridge up to 2weeks.
• You can use fresh coconut to make flakes, just grate or shred it add little bit sugar and mix it to make sweetened.
• You can add ½ tsp instant coffee powder into the wet ingredients to make more flavorful.
• Adding fresh fruit over the cake is absolutely optional, you can use as per your choice.
Recipe by
Binjal's VEG Kitchen
at https://binjalsvegkitchen.com/eggless-coconut-chocolate-cake/