Vegan Chocolate Bundt Cake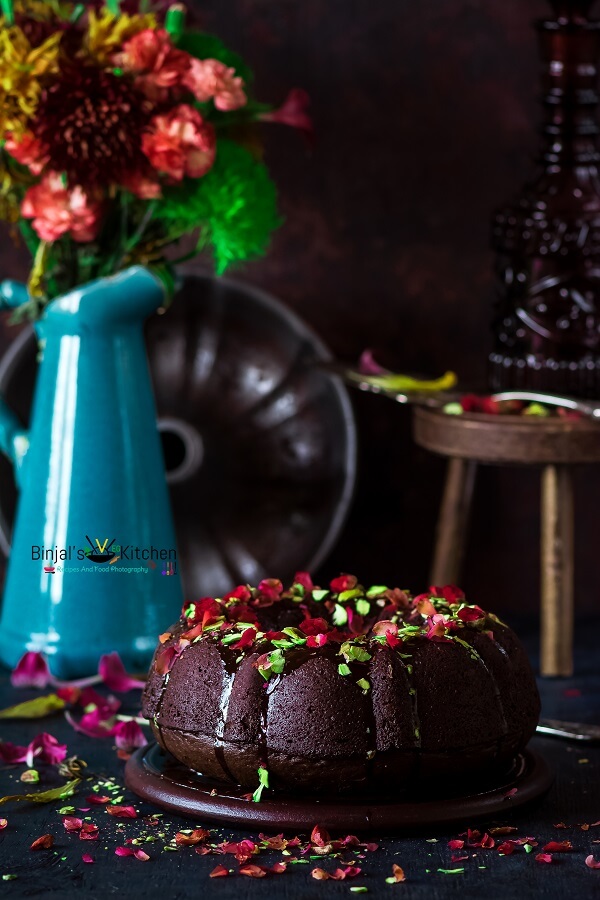 Recipe type:
Baking & Dessert
3 cups All Purpose Flour
½ cup Dutch Cocoa Powder
1 ½ cup Granulated Sugar
1 ¼ cup Almond or Coconut Milk
½ tsp Instant Coffee Powder
1 tsp Baking Soda
½ tsp Baking Powder
½ cup + 1 tbsp Oil
2 tsp Vanilla Extract
1 tbsp White Vinegar
¼ tsp Salt
Chocolate Syrup
Sliced Pistachios
Rose Petals
Preheat the oven on 350F or 175C.
In a mixing bowl, sift the dry ingredients (Flour, Cocoa powder, Sugar, salt, baking soda and baking powder) and mix it well.
In another mixing bowl, add warm milk, instant coffee powder and mix it till dissolved, then add oil, vanilla extract and mix it again.
Add wet ingredients mixture into the dry ingredients and mix it well. Add white vinegar and mix it all using spatula/wire whisker or a hand mixture till smooth and lump free batter.
Take a bundt cake pan, coat the inside pan using oil and dust it with flour or you can just nonstick oil spray.
Now pour the mixture into the pan and place it into the preheated oven. Bake for 45-50 minutes at 350F (do check with a toothpick) until a toothpick comes out clean and the cake springs back when gently pressed.
Allow to cool in the pan for 10 minutes, then turn out onto a wire rack to cool completely.
Once the cake is cool, top up with any glaze or chocolate syrup, garnish with sliced pistachios and rose petals and enjoy.
• You can use water instead of milk.
• You can add dry fruits, chocolate chips as per your choice.
• You can store the cake, well wrapped at room temperature, for up to 3 days.
Recipe by
Binjal's VEG Kitchen
at https://binjalsvegkitchen.com/vegan-chocolate-bundt-cake/