Aloo Paratha Recipe (Punjabi Aloo Paratha)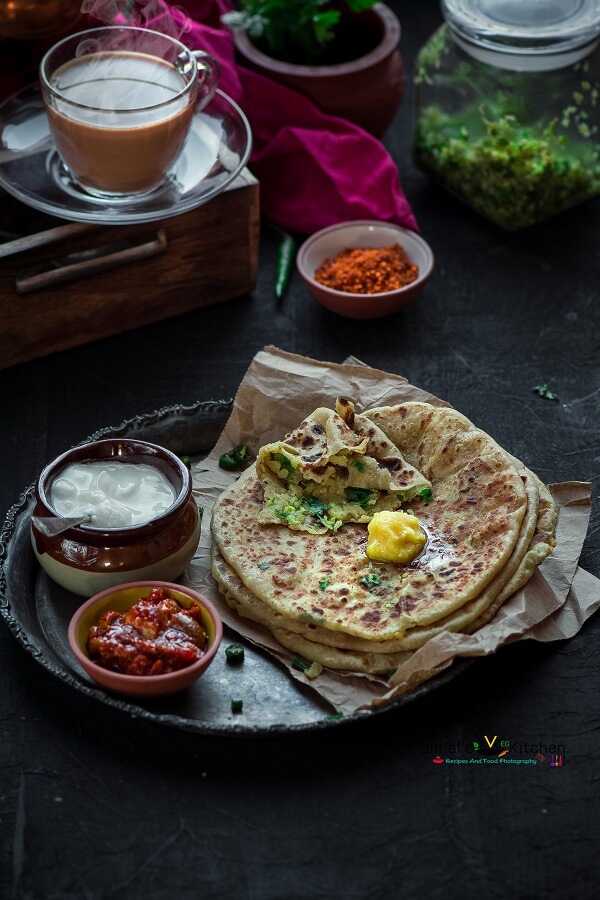 Recipe type:
Indian Breads
2 cup whole Wheat flour
Salt
1-2 tbsp Oil
3-4 Boiled Medium Sized Potatoes
¼ cup Chopped Coriander Leaves
2-3 Green Chili finely chopped
1 tsp Garlic Paste
1 tsp Ginger Paste
½ Lemon Juice
½ tsp Garam Masala
¼ tsp Amchoor Powder
½ tsp Cumin Powder
¼ tsp Turmeric Powder (optional)
Salt
Take a mixing bowl. Add the flour, oil, and salt. Mix it all together.
Now, add ½ cup of water and knead it, use more water as required, and make a soft and smooth dough. It should be like a roti dough.
Add 2-3 drops of oil, knead it again, cover it and keep aside.
Take another mixing bowl. Grate the boiled and peeled potatoes in it or you can mash it till smooth.
Add crushed green chilies, garlic, ginger, salt, amchoor powder, cumin powder, turmeric powder, lemon juice and chopped coriander leaves. Mix it well.
Divide the mixture into the 6 to 8 equal parts and make stuffing balls and keep aside.
Take the dough and divide it into 6 to 8 equal parts and make dough balls out of it.
Now take one ball of dough, coat it into the dusting flour and Roll the ball into the small circle.
Place the stuffing ball on the center of the circle, then collect the edges of the circle, seal and make a ball, press it little and give a shape of the small flat circle.
Coat it again with dusting flour and roll it out gently and give a circular shape like a regular thick roti or paratha.
Place it on a heated tawa/griddle and cook on medium flame. When you see tiny bubbles rising on the surface, turn it over.
Spread ½ teaspoon oil around its edge on both sides with the help of spatula and cook for a minute each side. Repeat flip and cook process until light brown spots appear on both sides.
Aloo paratha is ready for serving. Spread some ghee and served it with yogurt, pickle, chutney or raita.
• Always mash the potatoes till smooth or grate it, so stuffing won't come out while rolling.
• You can add finely chopped onion into the stuffing if you like it.
• Add spices per your taste buds.
• This paratha is perfect for vegan, just avoid spreading ghee on it.
Recipe by
Binjal's VEG Kitchen
at https://binjalsvegkitchen.com/aloo-paratha-recipe-punjabi-aloo-paratha/