Bharwan Baingan (Gujarati Bharela Ringan Nu Shaak)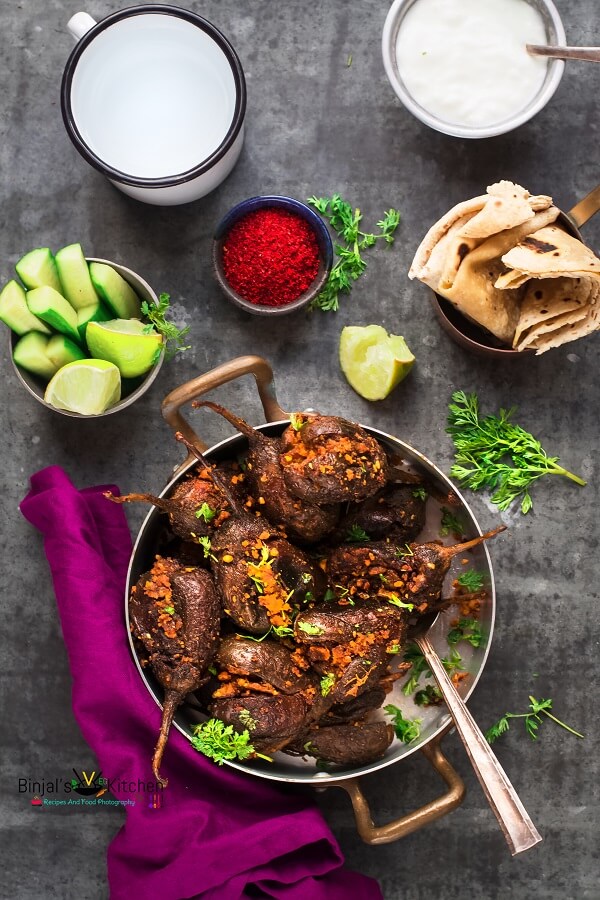 Recipe type:
Indian Curry
5-6 Baby Eggplants/Brinjal/Baingan
2-3 tbsp Oil
½ cup Besan/Gram Flour/Chickpeas Flour
3-4 tbsp Crushed Roasted Peanuts
2-3 tbsp Grated coconut
1 tsp Sesame Seeds
2 tsp Coriander Seeds Powder
1 tsp Red Chili Powder
¼ tsp Turmeric Powder
1 tsp Garam Masala
1 tsp Amchoor Powder
Pinch of Hing/Asafoetida
1 tbsp Oil
Salt
1 tsp Sugar (optional)
Wash and wipe baingans. Slit the brinjals in the center to make a cross mark that divides each brinjal into 4 parts joined at the steam.
Now roast the besan on a low flame about 2 mins, remove it into the mixing bowl and let it cool down.
Add crushed peanuts, grated coconuts, sesame seeds, coriander seeds powder, garam masala, turmeric powder, red chili powder, amchoor powder, pinch of hing, sugar, salt and oil in it.
Mix all ingredients properly and make the mixture for stuffing.
Now stuff the mixture into each baingan using your fingers and thumbs.
Heat the oil in a kadhai or pan and place the stuffed baingans into the pan, do not stir it.
Cover the lid and cook it on medium flame till cooked, turn it upside down after every 2-3 minutes and check it.
Bharwan Baingan is ready, remove from the pan and serve it with roti/phulka, paratha or dal-rice.
• Add spices as per your taste.
• if you don't want steam you can remove it and make a cross slit.
• You can store Bharwan Baingan up to 1 week into the refrigerator.
Recipe by
Binjal's VEG Kitchen
at https://binjalsvegkitchen.com/bharwan-baingan-gujarati-bharela-ringan-shaak/