BDahi Batata Puri (Dahi Puri Chaat)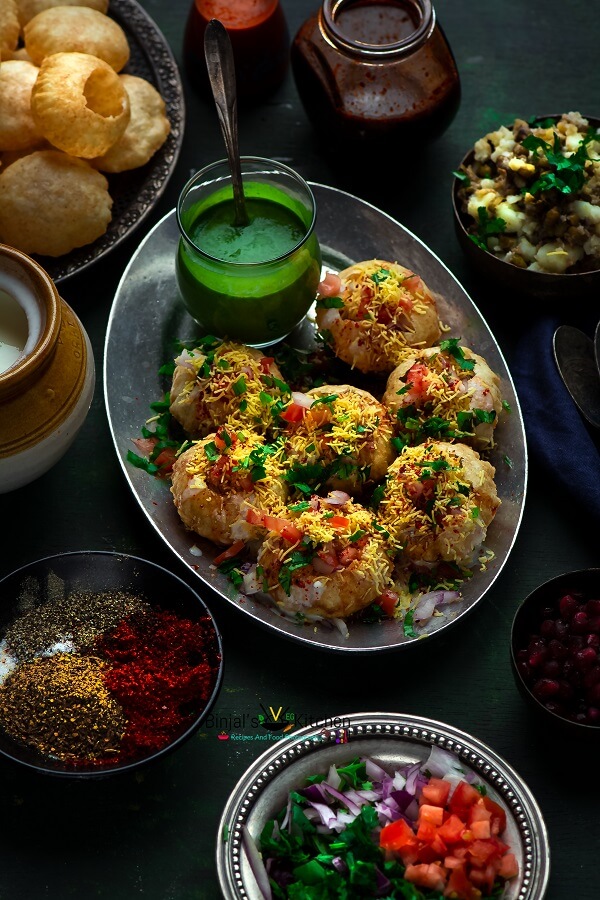 Recipe type:
Streetfood & Chaat
30-40 Pani Puri's Puri
3 cup Plain Yogurt
2-3 Medium Sized Potatoes (Boiled in Water with Salt)
1 cup Moong Beans (Soaked and Boiled in Water with Salt)
1 cup Green Chutney
½ cup Khajur Imli Ki Chutney/Sweet Chutney
Salt
½ cup Chopped Onion
½ cup Chopped Tomatoes
1 cup Chopped Coriander Leaves
½ cup Pomegranate Arils
1 cup Sev
2-3 tbsp Roasted Cumin Seeds Powder
2-3 Tbsp Chaat Masala
2 tbsp Red Chili Powder
Take a bowl. Add plain yogurt, ¼ tsp of salt and ¼ cup of water, whisk it, make a smooth sauce and keep aside.
Peel and mash the boiled potatoes. Add ¼ tsp red chili powder, salt and ¼ tsp chaat masala, mix it and keep aside.
Drain the water from boiled moong beans, crush it using spoon and set aside.
Now arrange all ingredients and prepared stuffing on a serving table for assembling.
Take a plate. Arrange 6-8 puris on the plate, crack it on the top and make a hole on each puri for stuffing.
Stuff prepared mashed potatoes, moong beans and then pour the prepared 2-3 tbsp yogurt sauce in each puri.
Add green chutney, sweet chutney and some chopped onions and tomatoes over it.
Now garnish it with sev, chopped coriander leaves, pomegranate, sprinkle some red chili powder, chaat masala and roasted cumin powder.
Dahi Batata Puri Chaat is ready, serve it immediately and enjoy. Make more plates of Dahi Batata Puris following the same method.
• If yogurt is thick, then add more water to make slightly pourable sauce.
• You can use yellow peas or chickpeas instead of moong beans.
• Stuffing and assembling ingredients as per choice, you can customize your Dahi Batata Puri per your taste.
Recipe by
Binjal's VEG Kitchen
at https://binjalsvegkitchen.com/dahi-batata-puri-dahi-batata-chaat/