Mango Shrikhand (Amrakhand)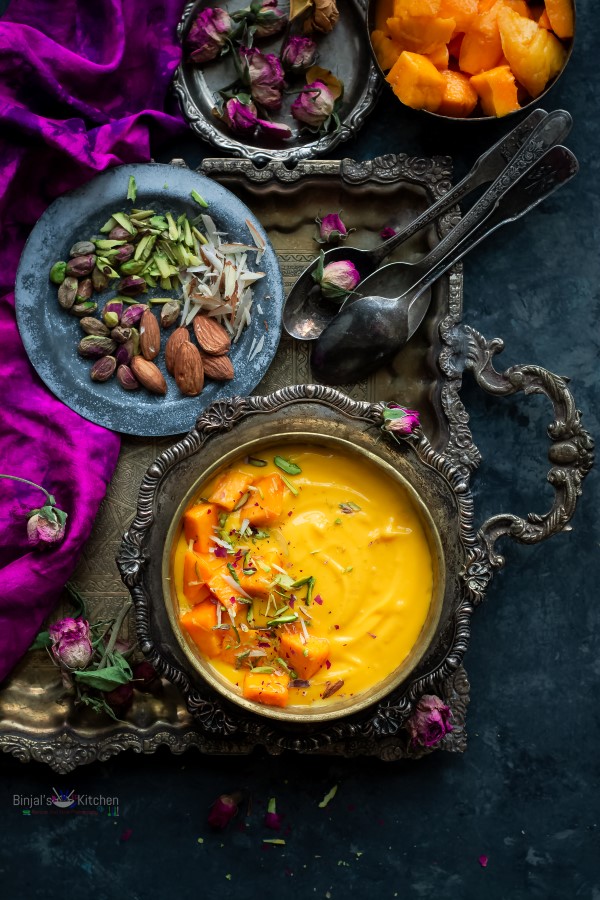 Recipe type:
Desserts & Sweets
2 cup yogurt/curd/dahi
1 cup Mango Pulp
½ cup Powdered Sugar or as per taste
Pinch of Cardamom
1 tbsp Milk
Pinch of Saffron
Chopped Pistachios
Chopped Almonds
Take a muslin cloth or cheese cloth and place the yogurt in it; hang it for 3-4 hours to drain out the whey from yogurt.
After 3-4 hours remove the yogurt from cloth and turn into bowl.
Place the bowl inside the refrigerator for 1-2 hours.
Soak the saffron in the milk.
Take a yogurt bowl from refrigerator and whisk very well using with spatula or weird whisk, then add sugar, soaked saffron, milk and mix well.
Now add mango pulp, cardamom powder, chopped Almond –Pistachios and mix well or whisk, then keep it in refrigerator for 1-2 hours.
Garnish Shrikhand with chopped Pistachios-Almonds and serve chilled.
You can use Greek yogurt if want to avoid straining process and for quick dessert. But strained Indian yogurt gives best taste.
You can store amrakhand into the refrigerator upto 1month.
You can add fresh mango cubes if you like it.
Recipe by
Binjal's VEG Kitchen
at https://binjalsvegkitchen.com/mango-shrikhand-amrakhand/