Grilled Mexican Street Corn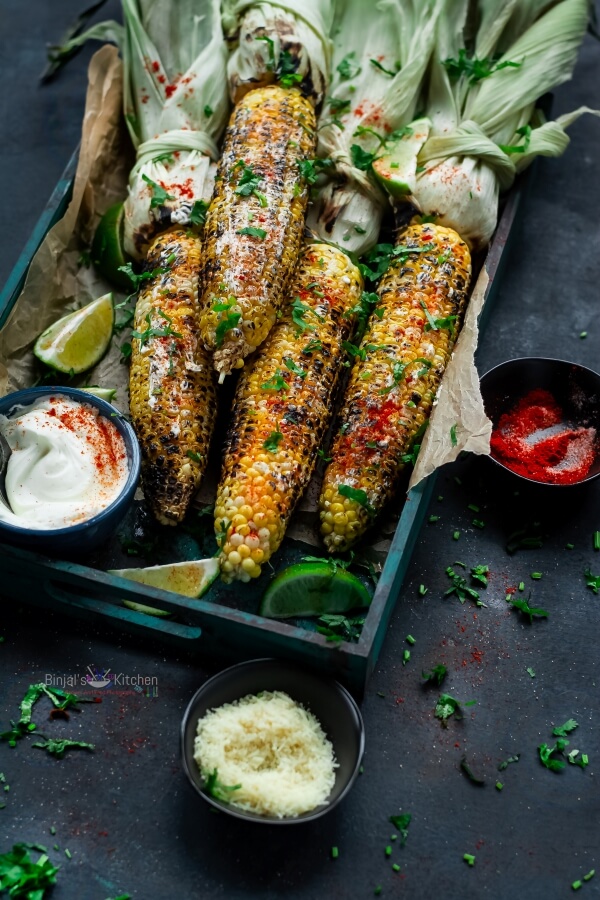 5-6 Medium Sized Sweet Corns
½ cup Mexican Crema/Sour Cream
½ cup Eggless Mayonnaise
½ cup Cilantro Leaves Finely Chopped
1 Garlic Clove Minced
¼ tsp Chili Powder
1 Lime Juice
½ cup Cotija Cheese/Parmesan Crumbled
1 Lime Wedges
Salt
¼ tsp Cayenne Pepper
Take a corn and remove the husks, clean and keep aside.
In small mixing bowl add crema/sour cream, mayonnaise, ¼ cup chopped cilantro leaves, garlic, chili powder, lime juice and then mix it well and keep aside.
Grill the corn ear on stove top or on grille about 4-5 mins or till all corn kernels become dark golden brown or charred all side.
Remove the corn from grille onto the plate, brush the prepared cream mixture over it all side as per your taste.
Sprinkle crumbled cotija or parmesan over the all corn ears, sprinkle lightly some cayenne pepper and salt over it, garnish it with chopped cilantro leaves and serve with lime wedge immediately.
If you are using griller to grill the corns preheat on high heat or on 400F. you can also broil it into the oven.
Use always fresh green husk corns.
If you are not able to find traditional Mexican crema in grocery store, use regular sour cream. Crema is a little thinner than sour cream and has added salt, which makes taste extra divine.
If cotija isn't available, feel free to omit it, or just use grated Parmesan instead.
Recipe by
Binjal's VEG Kitchen
at https://binjalsvegkitchen.com/grilled-mexican-street-corn/