Heirloom Tomato Caprese Salad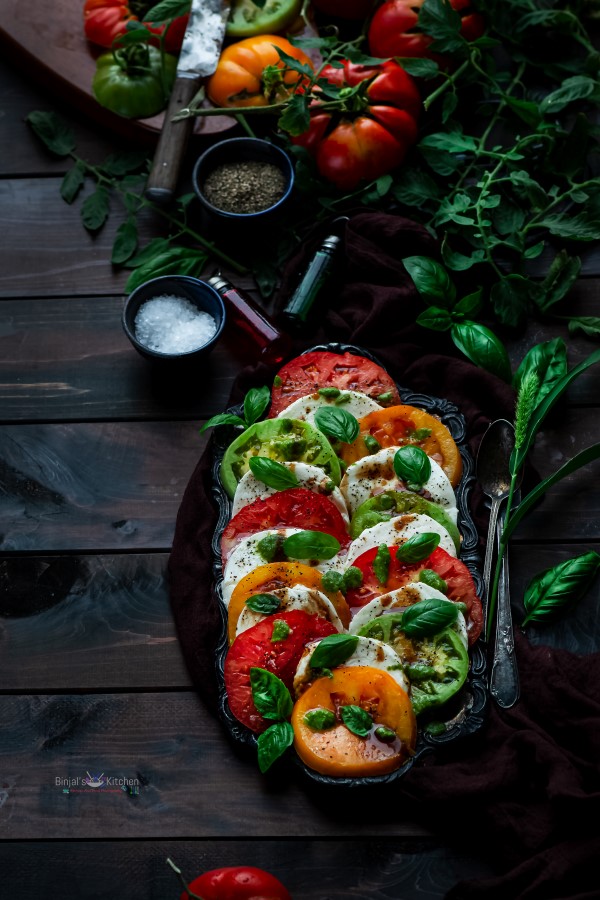 2-3 Heirloom Tomatoes (I used red, green and yellow)
¼ cup Fresh Basil Leaves
¼ cup Basil Walnut Pesto
4oz Fresh Mozzarella Cheese Ball
4 tbsp Balsamic Vinegar
2 tbsp Extra Virgin Olive Oil
1 tsp Honey
½ tsp Ground Black Pepper
Salt
Slice the tomatoes in approximately ¼ inch slices, do the same with Mozzarella cheese.
Arrange the sliced Tomatoes and Mozzarella cheese with alternate layers on the plate.
In small mixing bowl add vinegar, olive oil, honey, salt, ground pepper and mix it well.
Drizzle the liquid mixture all over the arranged Tomatoes and cheese slices.
Sprinkle the pesto with spoon over it, then garnish with fresh basil leaves, sprinkle some salt and pepper as per taste.
Heirloom Tomato Caprese Salad is ready!! serve fresh and enjoy.
• You can use lemon juice instead of vinegar.
• If you don't have heirloom tomatoes use any big sized tomatoes instead of it.
Recipe by
Binjal's VEG Kitchen
at https://binjalsvegkitchen.com/heirloom-tomato-caprese-salad/