Chocolate Covered Rose Popsicles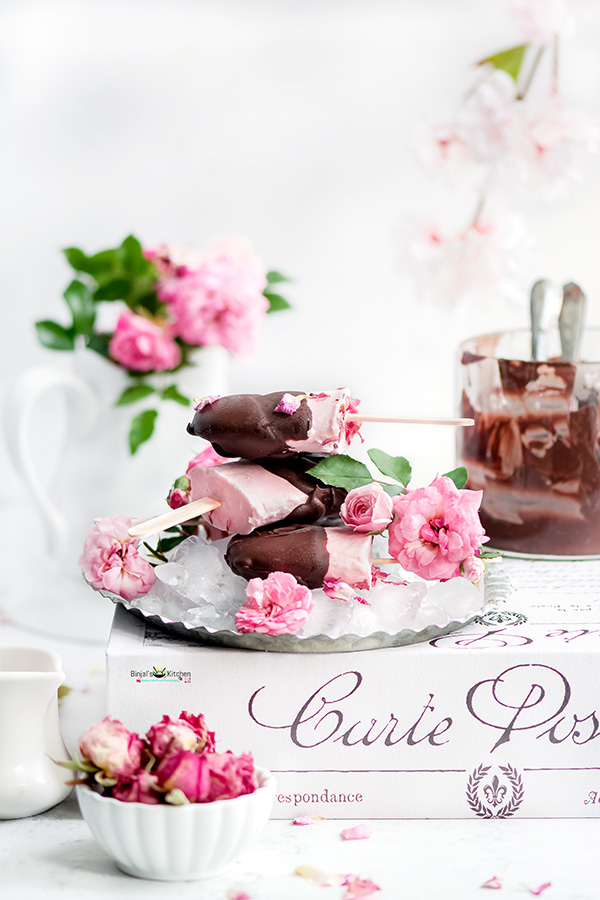 Cuisine:
Indian, American
Ingredients
2cups Full Fat Milk
½ cup Heavy Whipping Cream
1 tbsp Honey
1 tsp Rose Syrup
For Covered Chocolate
1 cup Melting Chocolate chips
½ tsp Coconut Oil
2-3 tbsp Rose Petals (Opt.)
In a saucepan add milk, cream, honey, mix it well and bring it to the boil.
When milk start boiling, switch off the flame low. Add rose syrup, mix it well and switch of the flame and let it cool down.
Once cool down completely, pour the rose milk into the popsicle mold, cover it with cling wrap, insert the popsicles sticks and place the filled mold into the freezer for 5-6hrs it set hard or until firm.
For Covered Chocolate
In a microwave safe bowl add chocolate chips and microwave the chocolate chips in 20 second intervals with stir each time until it just melted, be careful do not burn the chips.
Now add melted coconut oil and mix it well.
Line the baking sheet with parchment paper and keep aside.
Remove the frozen rose popsicles from the mold and dip it into the melted chocolate, then lay them on the parchment paper, sprinkle some rose petals over it.
Place chocolate covered rose popsicle immediately into the freezer to set. Once hard, store all popsicles into the zipper bag and place the bag into the freezer. Chocolate covered rose popsicles are ready for eat.
You can add rose nectar or extract instead of rose syrup. Use pink food color for pink shade.
You can top some chopped dry fruits like almond, pistachios, etc..
You can use boiler method instead of microwave for chocolate chips or use package instructions.
Recipe by
Binjal's VEG Kitchen
at https://binjalsvegkitchen.com/chocolate-covered-rose-popsicles/