Vegan Creamy Mint Chocolate Popsicles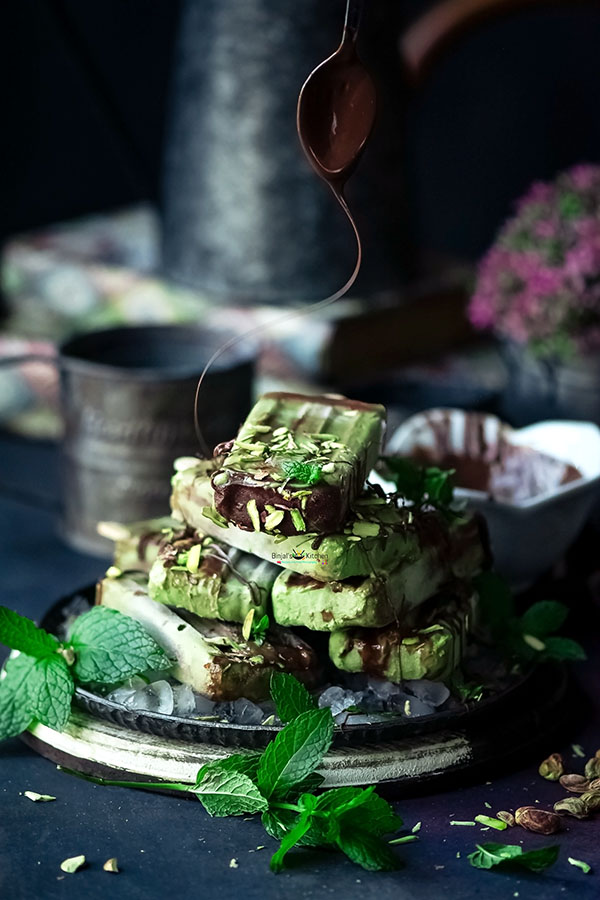 14 Oz Can Coconut Milk
½ cup Fresh Roughly Chopped Mint Leaves
½ cup Maple Syrup or Sugar
1 tsp Matcha Powder (opt.)
1 cup Dark Chocolate Chips
Heat the milk with maple syrup in a saucepan. Heat it till about to boil, then switch of the flame. Do not boil the milk.
Add mint leaves and keep aside to cool down completely for 30 mins.
In a small bowl add matcha powder and 2-3 tbsp of the prepared milk mixture, mix it well till smooth and non-lumpy paste.
Add the matcha paste into the prepared milk mixture and mix it well.
Strain all the mixture and discard the mint leaves.
Now melt the half of chocolate chips into the microwave according to the package instruction. Then add or coat inside the mold using a spoon. You can tilt the sides of mold and coat with melted chocolate, do not coat too much.
Once the chocolate coat set little bit, add the prepared strained mixture into each mold and cover it, then insert the popsicle sticks and place it into the freezer to set about 6-7 hours.
Once popsicles become hard, remove the mold from the freezer, dip it into the warm water or run thru the tap water and then gently unmold the popsicles.
Place the popsicles on parchment paper and then spread the melted chocolate over it using spoon. Once chocolate set well, put it into the plastic or Ziplock bag and immediately freeze all the popsicles to enjoy anytime.
Your healthy Vegan Creamy Mint Chocolate Popsicles are ready, enjoy!!
If you don't like matcha powder, then you can skip it.
If you want the fresh green color but do not want to use matcha, then add ¼ cup of spinach puree for greenish color.
Recipe by
Binjal's VEG Kitchen
at https://binjalsvegkitchen.com/vegan-creamy-mint-chocolate-popsicles/