Naan Butter Garlic without Tandoor/Oven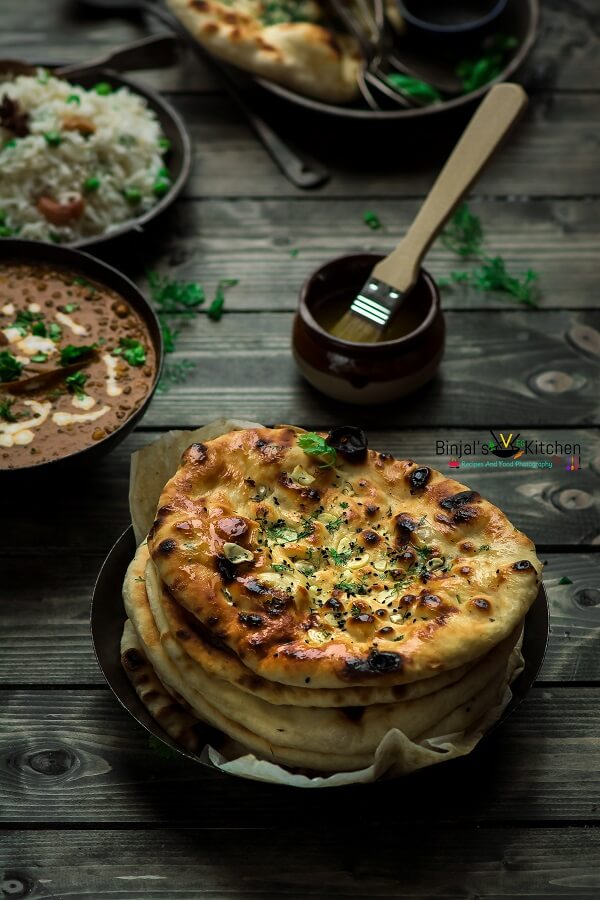 Recipe type:
Indian Flatbread
3 cup All Purpose Flour/Maida
2 tsp Garlic Paste
2-3 tbsp Butter
Salt
1 Packet Dry Yeast (7g)
2 tsp Sugar
Lukewarm Water
1-2 tsp Oil
1 tsp Kalonji/Nigella Seeds(Opt.)
1-2 tbsp Minced or Crushed Garlic for Topping
Finley Chopped Coriander Leaves for Topping
Flour for Dusting
1 tbsp Melted Butter
Take a large bowl; add dry yeast, sugar, ¾ cup warm water and cover the bowl for 10 minutes (come out bubbly or foamy).
Now Add garlic paste, butter, salt and mix well. Add 3 cups flour and knead it to make smooth, slightly sticky dough (use Water as needed).
Turn the dough on the floured kitchen surface and knead about 5 minutes using your hand.
Grease the bowl and place the dough in it. Cover the dough until its size doubled or 35-40 minutes.
After 40 minutes punch the dough and knead it, then divide it into medium sized balls(about 10-12).
Now hit the tawa or griddle on medium flame, then take a one ball, apply some crushed garlic, chopped coriander leaves and kalonji, then roll out the ball into an oval or triangle shape using dusting flour.
Turn rolled naan upside down, then apply little water on Naan, and then place watery side of Naan on hot tawa/griddle, so it sticks easily on tawa.
After few seconds bubbles will come out on the surface, cook for 1-2 minutes.
Turn the tawa upside down direct on the flame and roast all side of the Naan directly on high flame till golden brown spotted.
Now remove it from the tawa, apply melted butter immediately.
Use the same process for the rest of the dough and make soft, crispy Naan on the stove top without tandoor or oven.
Your Butter Garlic Naan without Tandoor is ready, Now Serve hot with any Indian curry or subji.
• Use 1 tsp baking powder + ¼ tsp baking soda + ¼ cup curd and reduce half quantity of water as a substitute of yeast.
• Always use good quality of yeast.
• If you are a beginner then don't use nonstick tawa/Griddle, use without nonstick, so your Naan stick easily on tawa.
Recipe by
Binjal's VEG Kitchen
at https://binjalsvegkitchen.com/butter-garlic-naan-without-tandoor-oven1/