No Bake Vegan Blueberry Cheesecake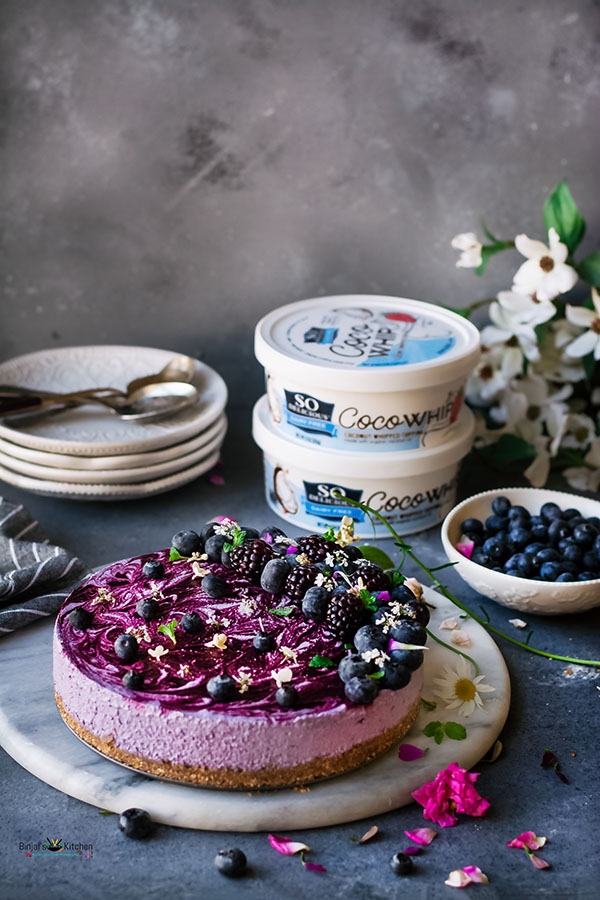 For Cheesecake Crust
1 ½ cup Graham Crackers Crumb
½ cup Dairy Free Butter
½ cup Brown Sugar or Coconut Plum Sugar
For cheesecake Filling
1 container of So Delicious® Dairy Free Cocowhip™ Coconut Whipped Topping
1 cup Cashew Nuts (Soaked for 7-8hrs)
¼ cup Maple Syrup
1 tsp Vanilla Extract
¼ cup Brown Sugar
1 cup Blueberries
½ Lemon Juice
9-inch Springform Pan
For Cheesecake Crust
In a mixing bowl add graham crackers crumb, brown sugar, dairy free butter and mix it well using your hands.
Now transfer crust mixture into the baking pan and press it tightly using glass or flat cup upside up and make bottom layer, place it into the refrigerator for 1-2 hrs.
For Cheesecake Filling
Drain the soaked cashew nuts and blend it into smooth paste add maple syrup while blending and keep aside.
In a saucepan add blueberries, sugar and lemon juice and cook it till it bubbling juicy mixture, switch off the flame and let it cool down, then using hand blender blend it and make smooth puree.
Take a big mixing bowl, add cashew paste, add ¾ of prepared blueberry paste, vanilla extract and mix it well using spatula.
Now add room temp Cocowhip™ and fold it and make smooth/soft filling mixture.
Remove the prepared crust pan from refrigerator, pour the prepared cheesecake filling over the crust, and make flat surface gently using spatula.
Now sprinkle remaining blueberry sauce over the surface and make pattern using toothpick or skewer.
Place the prepared cheesecake pan into the refrigerator and let it set for 5-6hrs. Once ready, thaw it for 10-12 mins before serving so it can be cut perfectly into the pieces.
Recipe by
Binjal's VEG Kitchen
at https://binjalsvegkitchen.com/no-bake-vegan-blueberry-cheesecake/