Roasted Pumpkin with Pesto & Burrata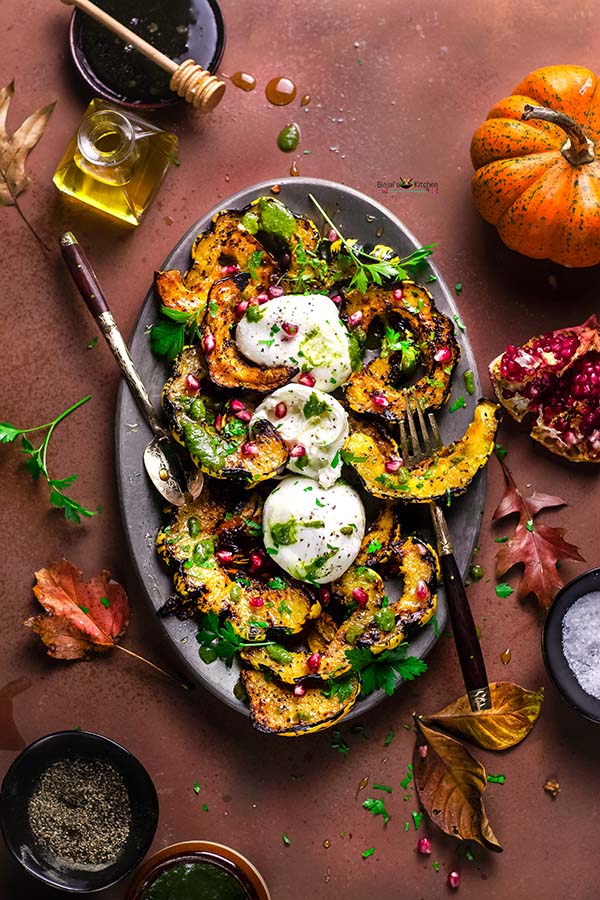 2 Acorn squash or Any Small Varieties of Pumpkin
3 tbsp Honey + 1 tbsp Extra
3-4 tbsp Olive oil
2 tbsp Butter
1 tsp Ground Black Pepper
½ tsp Salt
¼ tsp Coarse Sea salt
½ tsp Red Pepper Flakes
3-4 tbsp Basil Pesto
2-3 Burrata Cheese
2-3 tbsp Chopped Parsley
¼ cup Pomegranate Arils
Preheat the oven on 450F.
Wash and cut the pumpkin into half, scrap the seeds and then cut it into the wedges.
In a mixing bowl, add pumpkin wedges, add olive oil, honey, red pepper flakes, salt and pepper.
Toss it till all sides coated, then place or arrange it over the baking sheet.
Sprinkle sea salt and place it into the preheated oven and roast it about 40-50 mins, while roasting turn the wedges upside down after 20-25 mins.
Now remove the baking sheet from the oven, arrange the roasted pumpkin wedges on serving plate, place the burrata cheese balls over it, drizzle pesto, honey with salt and pepper.
Sprinkle chopped parsley, spread pomegranate arils over it and serve.
If you don't find burrata, then you can use goat cheese or fresh mozzarella balls.
If you would like, then you can sprinkle extra salt, pepper, honey or pepper flakes
Recipe by
Binjal's VEG Kitchen
at https://binjalsvegkitchen.com/roasted-pumpkin-with-pesto-burrata/