Bread Pakora or Bread Pakoda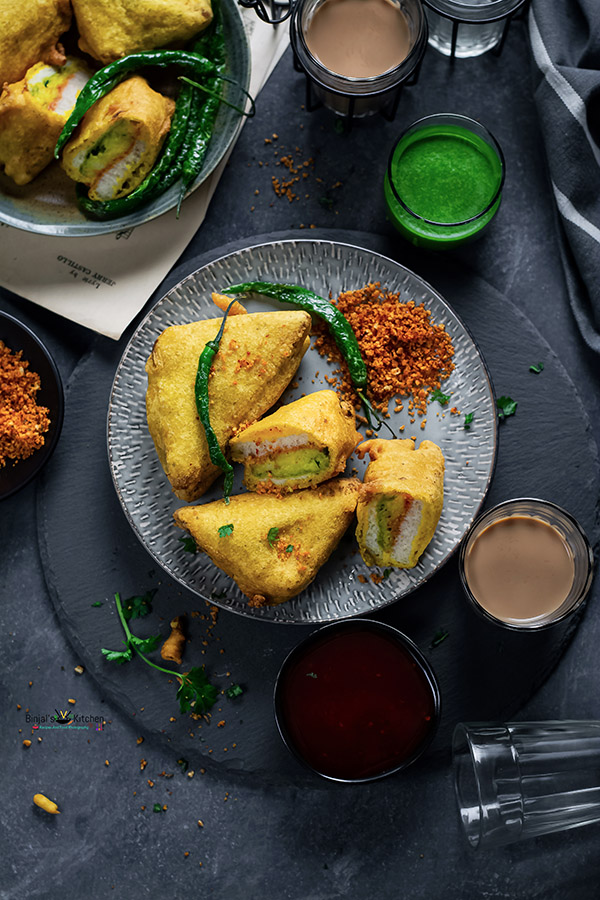 For stuffing
3-4 Medium Sized Boiled Potatoes
1 tbsp Oil
1 tsp Cumin Seeds
1 tsp Mustard Seeds
Pinch of Hing/Asafetida
4-5 Curry Leaves(opt.)
1 tsp Coarse Green chili paste
1 tsp Ginger Paste
1 tsp Garlic Paste
Salt as per taste
½ tsp Turmeric powder
¼ tsp Red chili powder
½ tsp Garam Masala
½ lemon Juice or ¼ tsp Amchoor Powder
¼ cup Chopped Coriander Leaves
For Batter
1 ½ cup Chickpeas Flour/Besan
½ tsp Turmeric Powder
¼ tsp Baking Soda
Salt as per taste
¼ tsp Carom Seeds
Other ingredients
3-4 Slices of Sandwich Bread
¼ cup Green Chutney
¼ cup Sweet Chutney or Tomato Ketchup
Oil for Deep Frying
For Stuffing:
Remove the skin of boiled potatoes and keep aside.
Heat the oil in a pan. Once oil hot enough, add cumin and mustard seeds.
When seeds start crackling, add pinch of hing, curry leaves, green chili-ginger-garlic paste and sauté it for few seconds.
Add red chili powder, turmeric powder, garam masala and stir it till mix.
Add potatoes, mash it with masher, add lemon juice, salt and chopped coriander leaves, mix it well and keep aside.
For Batter:
In a big mixing bowl, sieve the chickpeas flour. Add baking soda, salt, carom seeds, turmeric powder, mix well and make smooth batter using ¾ cup water. Add few more tbsp if needed.
Batter should not be too thick or thin, it should be like regular pakora batter so it can coat bread easily. Keep aside.
Process:
Heat the oil for deep frying in a deep pan or kadai.
Take bread slices, cut the edges, take two slices of bread for pair, apply 1 tsp green chutney on one bread slice and 1 tsp sweet chutney or ketchup on another.
Spread spoonful of spicy potato stuffing on chutney applied bread slice. Cover with another chutney slices, press it little so it sticks properly.
Cut stuffed bread slices into two equal tringles and keep aside. Make more stuffed triangle pieces using same method.
Now dip the stuffed triangle in prepared chickpeas batter and coat it all side properly.
Slide coated triangle piece into the hot oil carefully, deep fry it all side until golden brown and crispy.
Use same method for remaining stuffed slices and make more bread pakoras.
Bread pakoras are ready serve with cup of tea a chutney and enjoy.
You can use sweet potatoes or grated cauliflower instead of regular potatoes.
Air fry or shallow fry if you don't want deep fried pakora.
You can make this bread pakora without stuffing too, only with chutneys.
Add shredded cheese with stuffing for cheese bread pakora.
Recipe by
Binjal's VEG Kitchen
at https://binjalsvegkitchen.com/bread-pakora-or-bread-pakoda/