Kurkuri Bhindi or Okra Fries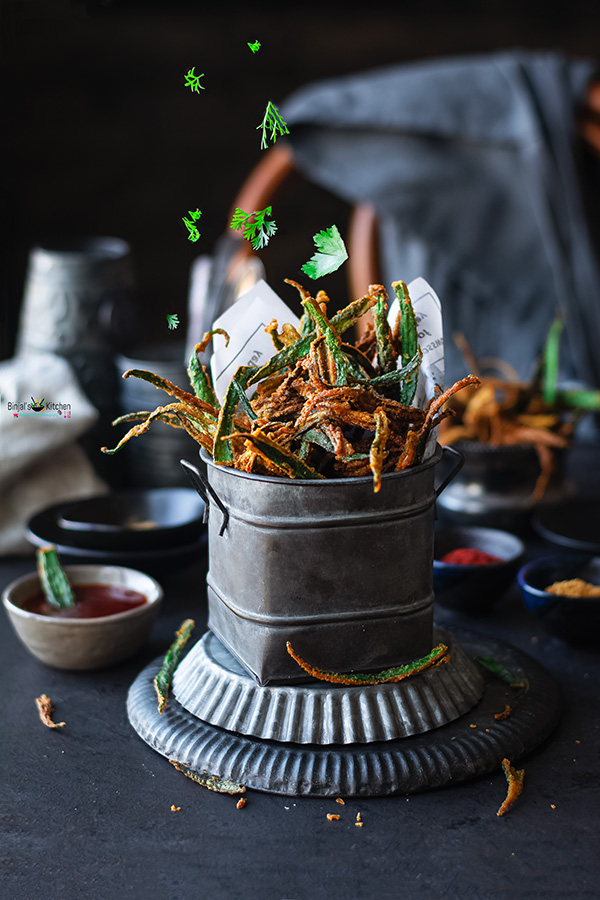 250gm Bhindi/Okra
¼ cup Chickpeas Flour
1 tbsp Rice Flour
1 tsp Red Chili Powder
1 tsp Turmeric Powder
2 tsp Coriander Powder
1 tsp Cumin Powder
½ tsp Amchur Powder
1 tsp salt
Chaat Masala for sprinkling
Oil for Frying or Spraying for Baking
Wash and wipe the bhindis with a paper towel or kitchen cloth properly.
Cut the top crown of bhindi, then cut it length wise into 4 pieces and keep aside.
If you want fried kurkuri bhindi, just remove the seeds to avoid messy oil. If you are going to bake, than no need to remove the seeds.
In a bowl, add chickpeas flour, rice flour, red chili powder, turmeric powder, coriander powder, amchur powder, cumin powder, salt and mix it well using a spoon.
Add the sliced bhindi and mix it with your hand till each slice coat well. Keep aside for 10 mins.
For Frying
• Heat the oil in a deep pan.
• Then fry the coated bhindi slices into small batches on a medium flame till becomes crispy golden brown.
For Baking
• Preheat the oven on 400F.
• Take a baking sheet, arrange the aluminum foil paper over it. Spread the coated bhindi slices, spray little oil and bake it about 20-22 mins.
Kurkuri Bhindi is ready, sprinkle some chaat masala and some lemon juice over it and serve with ketchup or chutney and enjoy.
If you want, then you can skip the part of removing seeds or you can fry with seeds. It is just to avoid mess in oil while frying.
Do not fry slices in big batches. It won't be crispy and will end up with soggy and slimy slices.
You can use cornstarch instead of rice flour.
Recipe by
Binjal's VEG Kitchen
at https://binjalsvegkitchen.com/kurkuri-bhindi-or-okra-fries/